What we know -- and don't know -- about Melania Trump's procedure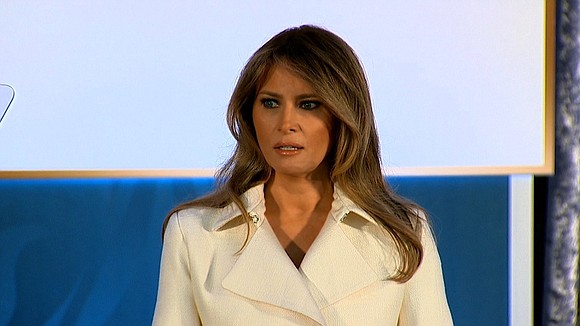 Embolization can be performed in an effort to prevent the need for surgery, but there is no indication that the first lady will undergo an additional procedure or have surgery.
Embolization may also be used in emergency situations for trauma or bleeding, Marx said. One example could be a bleeding cyst, a fluid-filled structure that can develop on top of or within the kidney.
Allaf said that, given the elective nature of Trump's procedure, it would be a preventive measure and not an acute -- severe and sudden -- medical problem.
What was the result of the embolization procedure?
"The procedure was successful, and there were no complications," the statement released by the White House said. A tweet from her press secretary, Stephanie Grisham, also indicated the first lady is doing well.
Allaf said that "the question is: Did they achieve the desired result in terms of shrinking whatever abnormality it is?" Over time, he said, the first lady will be monitored by her medical team to answer this question.
How long will the first lady stay in the hospital?
Trump will be staying in the hospital for two or more days, according to the White House.
"I would say it's somewhat atypical but not out of the question," Allaf said. "It may be just out of an abundance of caution and privacy."
"Certainly, staying a little longer may imply that this is a little bit more of a complex situation," he said. "The larger the growth in the kidney, the more side effects that can happen from the procedure, which would imply additional monitoring. Sometimes, a second stage of the procedure is performed because the growth, for example, may have multiple blood vessels, and so they may just want to evaluate for clinical success."
Marx said that "if I was a doctor taking care of the first lady of the United States, I might just make sure she stayed in the hospital for a few days out of sheer caution." She added that in some situations, people go home the same day. "I'd say it's most common for them to go home the next day or to stay two nights."
When patients stay longer in the hospital, she explained, it is usually due to "fever and pain." In such cases, patients are given medicine and monitored. In her 30 years of experience, Marx said, she's seen people who have no pain whatsoever the next day, while other patients "have had pain severe enough to need IV pain medicine for days."
What happens next? "I would anticipate she'll go home later this week and that her symptoms from whatever kidney condition she had will go away, and in a few months, she'll probably get a CT scan to make sure that it is documented that the tumor is dead and not growing," Marx said. "I'm sure that the first lady of the US is getting excellent, state-of-the-art medical care, and I wish her well and hope she recovers quite quickly and forgets about the whole thing quite quickly."