Burlesque Icon Dita Von Teese Touts Her Own Brand of Feminism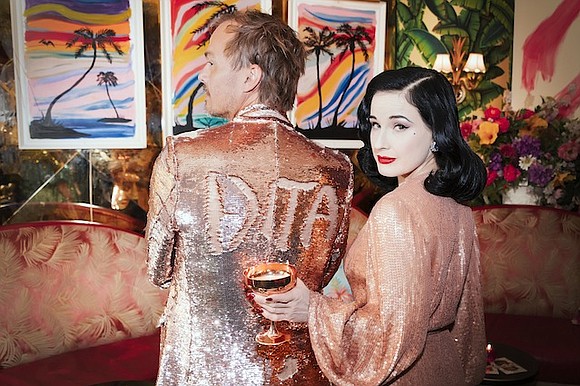 Born out of a time capsule from Hollywood's golden era, glamour girl and burlesque goddess, Dita Von Teese has been captivating imaginations around the world since she burst onto the scene in the early 2000s, first on the cover of Playboy Magazine, and then draped on the arm of controversial rocker, Marilyn Manson. Since then, Dita has carved out an iconic reputation for herself as the most famous and sought after burlesque performer in the world. Vanity Fair has dubbed her a "Burlesque Superheroine," and Elle has declared her an "all around icon."
The raven haired, fair skinned, hourglass shaped glamour girl who never leaves home without the perfect red lip and vintage sunglasses, Von Teese travels the globe performing burlesque shows that pay homage to the vintage artform, but with a modern interpretation. She performs to sell-out crowds and mesmerizes with costumes perfectly adorned with breathtaking crystals, and over-the-top stage props and accessories placed just so, including her signature martini glass bubble bath routine. Incidentally, the crowds are packed with Von Teese's millions of female fans who draw inspiration from her old world, finely crafted sensuality.
Having been fascinated with her image for some time, I sat down with Dita Von Teese to discuss everything from her captivating appearance and stage performances to her thoughts about femininity, motherhood, feminism and her current tour, Dita Von Teese and the Copper Coupe.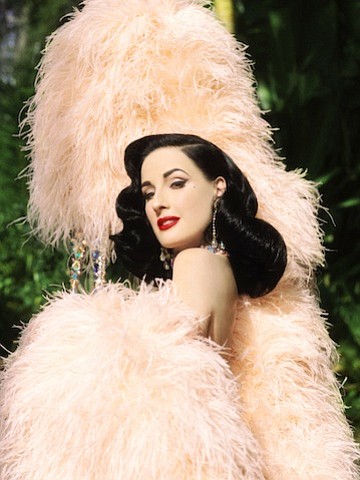 Allison Kugel: How do you define femininity?
Dita Von Teese: I grew up admiring movie stars of the 1940s and 1950s. To me, that was always the epitome of feminine, and it made a mark on me from a very young age. I guess I have always associated that exaggerated femininity with the definition of feminine; the way a woman enhances herself with the tools in the beauty box, so to speak. I've always thought of glamour as feminine. That's what I love for the outwardly feminine. On the other hand, I have a different closed door feminine as well, where I can remove those layers and get to the essence of what we are trying to exaggerate with the hair and makeup and the high heels and all the things we do to be hyper feminine in public.
Allison Kugel: Why not keep your natural blonde hair? And your birthname, Heather Sweet, was a sexy name. Why the change to brunette, and why the name change to Dita Von Teese?
Dita Von Teese: I started becoming Dita when I was about nineteen years old, so I wasn't really thinking it through. I didn't think about long term, and I certainly never expected to become famous for being a burlesque dancer and pinup model. It started as a hobby that I was doing, and in my little mind I thought by the time I was thirty I would be finished. And at the time, I was looking to Gypsy Rose Lee and Lili St. Cyr, and these [burlesque] stars from the past. These were choices I made when I was younger, and yes, I always liked the idea of that big Hollywood makeover. Rita Hayworth's name was not Rita Hayworth, and Rita Hayworth had black hair and a widow's peak that got removed with electrolysis. There was that big Hollywood machine, and I was always fascinated with the idea of these raw beauties becoming transformed into Birds of Paradise.