Captain Tara Wright and First Officer Mallory Cave Make Alaska Airlines History as its 1st African American Female Flight Crew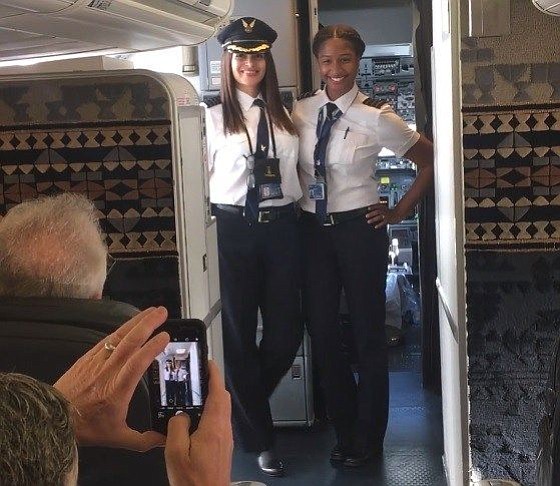 Alaska Airlines marked a milestone on Mother's Day, as one of its West Coast flights became the first to be flown by two black women.
Tara Wright, the captain of Flight 361 from San Francisco to Portland, stepped out of the cockpit to introduce herself and first officer Mallory Cave to passengers before their Boeing 737's Sunday takeoff.
After mentioning that Sunday was Mother's Day, as well as her father's 80th birthday, Wright sprung her surprise in a Facebook video.
"Finally, you're sharing a pretty interesting piece of Alaska Airlines history this morning," she told passengers, who began bursting into applause. "You'll be piloted by two female African-American pilots for the first time in the airline's history."
Alaska Airlines – which was formed in a 1932 merger and took its current name in 1944 – subsequently shared Wright's video to its Facebook page. Its post called the moment "history in the flying," adding that Wright and Cave were following in the footsteps of Bessie Coleman — America's first black woman to make a public flight in 1922.
Sunday's flight has special relevance in the airline industry, where more than 72 percent of employees are white and 60 percent are male according to the federal Bureau of Labor Statistics. A 2015 breakdown of airline data from the bureau showed even greater diversity issues among flight crews, in which 91 percent of airline pilots and 73 percent of flight attendants were white; just 9 percent of pilots were female, versus nearly 75 percent of flight attendants.
Airline officials declined to discuss details Thursday on the racial or gender diversity of its pilot corps, which includes nearly 2,000 pilots with Alaska and almost 840 more flying with Virgin America after it was acquired by Alaska in 2016.
To read more, go to: http://www.ktva.com/story/38218189/alaska-airlines-sees-first-ever-black-female-flight-crew