Houston Chamber Choir Announces Diverse 2018-2019 Season, "Art & Soul"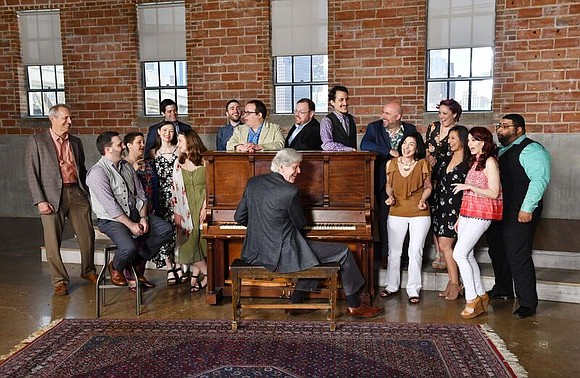 HOUSTON, May 18, 2018 – Houston Chamber Choir is pleased to announce its 23rd season, "Art and Soul," with a diverse and compelling repertoire featuring exciting guest artists and scholars. For the 2018-2019 season, the Chamber Choir performs with the Kinder HSPVA Chorale and director Shannon Carter, the Parker Elementary School Advanced Chorus and director Marianna Parnas-Simpson, guest artist Kim Nazarian of New York Voices, Musiqa, Apollo Chamber Players and University of Houston scholar and author Dr. Jeffrey Sposato.
"Our season's tag line is more than a cute riff on Hoagy Carmichael's classic 'Heart and Soul,'" says Houston Chamber Choir Artistic Director Robert Simpson. "'Art and Soul' expresses how we make music — how deeply we care about unlocking the emotional power behind the music we sing."
Houston Chamber Choir opens its ticketed season in September with This is Why I Sing, a concert filled with the joy of music as the Houston Chamber Choir is joined by the Kinder HSPVA Chorale and the Parker Elementary School Advanced Chorus (the oldest magnet school for the arts in HISD). Then switching gears for October, The Joint is Jumpin': Big Band Favorites is a free concert presenting the greatest music of the Greatest Generation, sponsored in part by the City of Houston through the Miller Theatre Advisory Board.
In November is The Unicorn, the Gorgon and the Manticore with myth and spectacle as told by dancers, instrumentalists and choir. The Wondrous Gift is Given: Christmas at the Villa de Matel is back again in December for five performances, a favorite holiday tradition in Houston, also featuring the Apollo Chamber Players and the Treble Choir of Houston.
In January 2019 Houston Chamber Choir celebrates the 20th anniversary of its annual school choir Invitational Choral Festival in Hear the Future, featuring Kinder HSPVA Chorale from Houston ISD and choirs from Tompkins High School from Katy ISD and North Shore High School from Galena Park ISD, in this free Sunday community concert. The public is welcome to attend.
"Each season, the Choir greatly anticipates Hear the Future, which is now in its 20th year," says Houston Chamber Choir Managing Director Mariam Khalili. "The level of excellence among the choir directors and the gifted students under their tutelage is truly a treasure for audiences to behold. We know our musical future is in good hands after experiencing the gorgeous music from these chorales."
In February, the Houston Chamber Choir jazzes things up with I Could Write a Book, featuring vocal jazz at its finest with New York Voices' Kim Nazarian. Following in April is Mass Observation, which is a Southwest premiere presented in collaboration with Musiqa.
The 23rd season closes in May with Leipzig after Bach, featuring music of Bach's successors at the Thomaskirche, inspired by the research of University of Houston Professor Jeffrey Sposato.
Houston Chamber Choir 2018-19 Season Schedule
This Is Why I Sing
Saturday, September 29, 7:30 p.m. – 9 p.m./South Main Baptist Church
Featured Guest Artist: Kinder HSPVA Chorale and Director Shannon Carter, and Parker Elementary School Advanced Chorus and Director Marianna Parnas-Simpson