H-E-B presents Juneteenth Heritage Celebration at Washington on the Brazos State Historic Site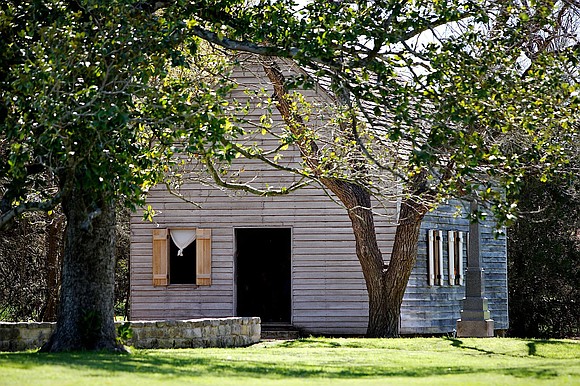 On the 19th of June 1865, Union General Gordon Granger arrived in Galveston and made a declaration of freedom ending the bondage of approximately 250,000 enslaved men, women and children in Texas. Since that time, Juneteenth has been celebrated and remembered by picnics, parades, family reunions, pageants, barbecues and games. The Brazos Valley has a rich history in celebrating Juneteenth, including the Juneteenth parade in Brenham, TX, which began in the early 1870s and continues to this day.
Washington on the Brazos State Historic Site and H-E-B observe this important occasion with its admission-free Juneteenth Heritage Celebration from 10 a.m. to 4:30 p.m. on Saturday, June 23, 2018 at 23400 Park Road 12, Washington, TX, 77880. Celebrating the rich African American heritage and culture of the Brazos Valley, past and present, the event will occur on the park's shaded grounds and in the conference centers.
The family-friendly Juneteenth Heritage Celebration will include a full day of food, art displays, musical performances (including singer/songwriter Brandi Pace, The Fantasy Band playing jazz and blues, and Mt. Rose Missionary Baptist Church Men's Choir), food trucks, Kids Zone with 1836 games, and craft-making with Children's Museum of the Brazos Valley.
Exhibits include Chappell Hill History Society (displaying works of late African American artist Rev. Johnnie Swearingen); Prairie View Trail Riders Association—the oldest black trail-ride association in Texas; The Texas Ten (World War I); hairstyles from World War I; Underground Railroad; and Brenham Normal Schools.
Prominent guests will include:
Myrtis Dightman, Sr.—co-founder of the Prairie View Trail Riders Association—will speak on his experiences as one of the first black rodeo cowboys to ride in a white rodeo circuit and the first black professional cowboy to compete in the National Finals Rodeo; last year, he was inducted into the Pro Rodeo Hall of Fame.
Buffalo Soldiers from Buffalo Soldier National Museum, Houston
Dr. Lila Rakoczy—Programs Coordinator, Military Sites and Oral History Programs, at Texas Historical Commission—will speak on Texan African Americans in World War I, with a focus on African Americans from the Brazos Valley
Lloyd Mays, native Brenham artist, poet and author of I Came From Hog Branch
As always, admission to the park and parking is free. Fees apply for access to Independence Hall, the Star of the Republic Museum and Barrington Living History Farm.

Washington on the Brazos State Historic Site
Washington on the Brazos State Historic Site has many onsite amenities open daily, as well as an incredible schedule of events and programs. On the grounds of this 293-acre, TPWD-run state park, stories of this tumultuous time in Texas history live on and can be experienced at Independence Hall (the site in 1836 where the representatives met to write the declaration of independence and craft the first constitution); the Star of the Republic Museum (collections honoring the history, cultures, diversity and values of early Texans; administered by Blinn College); and Barrington Living History Farm (where interpreters dress, talk, work and farm as the earliest residents of the original farmstead did). The site's Visitor Center features interactive exhibits which present a timeline of the Texas Revolution and highlight the historic attractions located within the park; it also houses the spacious Washington Emporium Gift Shop, which offers snacks and a wide range of Texas-themed items and keepsakes.
The Park: The expansive park grounds of this state park along the Brazos River also provide a beautiful setting for picnicking, sightseeing and bird watching, as well as four geocaching sites—two each from TPWD and the Brenham/Washington County Chamber and CVB. It also features a Conference and Education Center, which is available for rent for meetings, weddings and reunions. An outdoor amphitheater and two pavilions are also available to rent.
Leashed pets are allowed in the park, but not allowed onto farm site or in the buildings. All attractions are accessible for the mobility impaired. For lodging information, please contact the Brenham Visitor Center at www.visitbrenhamtexas.com/ or 1-888-BRENHAM, or the city of Navasota at www.navasotagrimeschamber.com.
Washington on the Brazos State Historic Site is found on the Brazos River at the original townsite of Washington, Texas, a major political and commercial center in early Texas. It is located at 23400 Park Road 12, Washington, TX, 77880—approximately halfway between Brenham and Navasota, off of State Hwy. 105. From Hwy. 105, follow either FM 912 or FM 1155 to Park Road 12. For additional information, call (936) 878-2214 or visit the site's website at www.wheretexasbecametexas.org.