Paolo Guerrero's shattered World Cup dream prompts calls for anti-doping reform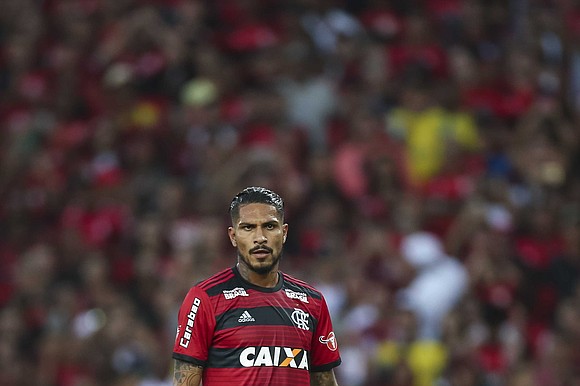 By Henry Young, CNN
(CNN) -- It's a story involving an alleged drugs violation and Inca mummies that's enraged a South American nation about to make its first World Cup appearance since 1982.
Thousands have taken to the streets of Peru in protest and three rival national team captains have signed a letter calling for leniency in the case of the Peruvian forward Paolo Guerrero.
Peru's all-time top scorer is presently banned from the Russia 2018 World Cup after testing positive for the cocaine metabolite benzoylecgonine, following a World Cup qualifying match away to Argentina in October 2017.
Initially banned for a year by FIFA -- the substance is on the World Anti-Doping Agency's prohibited list -- Guerrero protested his innocence, contending the metabolite was only found in his system as a consequence of a simple cup of coca tea, a common drink in South America.
In court, Guerrero's lawyers invoked the story of three Inca mummies -- the Children of Llullaillaco -- discovered by mountaineers in 1999.
The mummies' perfectly-preserved bodies had gone undisturbed since the 16th Century and contained traces of the same substance -- despite cocaine only being isolated as psychoactive alkaloid hundreds of years later.
If the metabolite could hang around on a person for centuries before cocaine even existed, surely, the lawyers argued, an adverse finding in Guerrero's case wasn't so unusual.
The player posted on his Facebook page in November: "I trust that the truth will soon be known and I will return to the fields to defend with soul and heart the colors of my country."
On 20 December 2017, FIFA reduced Guerrero's ban to what it considered a "proportionate sanction" of six months, meaning Peru's talismanic captain would get a chance to play in the World Cup.
Job done, or so it appeared, as Peru manager Ricardo Gareca named the 34-year-old in his provisional squad on May 14.
The World Anti-Doping Agency Agency had other ideas.
Later that day, the Court of Arbitration for Sport (CAS) announced it had decided to increase the suspension from six to 14 months, as WADA sought to impose a stricter ruling.
CAS accepted that Guerrero "did not attempt to enhance his performance by ingesting the prohibited substance," adding there was no "significant fault or negligence," but the court's panel insisted the player could have taken measures to prevent the violation.
Guerrero had also taken his case to CAS, seeking to prove his innocence once and for all. The verdict left him back at square one.
Rivals join forces
It's a decision that has prompted uproar in his native country and beyond.
Newly-appointed president Martin Vizcarra vowed to support Guerrero's case, lobbying the Peruvian embassy in Switzerland.
Thousands crowded onto the streets of Lima donned in Peru's national colors with placards and banners protesting Guerrero's innocence.
FIFPro, the sports world players' union, called for an "urgent" meeting with FIFA, calling the ban "unfair and disproportionate."