Why a terminally ill young woman has changed her mind about living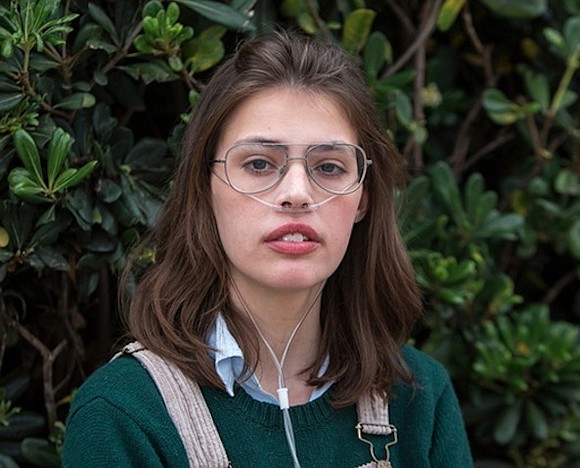 By Jessica Ravitz, CNN Photographs by Monica Almeida for CNN
(CNN) -- To face each day, Claire Wineland undergoes hours of breathing treatments. It's a reality of living with cystic fibrosis she's come to accept.
But last month, as the nebulizer hummed loudly in her La Jolla, California, hotel room, she breathed in medicine through her mask and hoped this day would be the first step toward something different.
She'd traveled from Los Angeles with her mother, her best friend and her pit bull, Daisy, who flopped down on the floor atop one of Claire's ever-present oxygen tubes. A full day of appointments at a nearby medical center awaited her, when she would begin the evaluation process to see whether she might be a candidate for a double-lung transplant.
A year earlier, Claire vowed that she'd never have the major surgery.
"It's not for me and never has been," she said at the time.
She was more comfortable dealing with the illness she knew than taking on the unknown. She preferred to focus on leading a purposeful life than worrying about death and how to dodge it.
A series of irreversible setbacks and some painful soul-searching, however, have prompted an about-face in her thinking. Claire, 21, needs new lungs, or she will die -- sooner than she's willing to accept.
The only question is: Did her change of heart come too late?
Feeling trapped
It wasn't as if the clouds parted and she suddenly saw the light. Claire's new outlook was the result of a messy and humbling self-reckoning.
She had long managed to push through physical discomfort to lead a life that mattered. After emerging from a 16-day medically induced coma at age 13, she envisioned the Claire's Place Foundation, which today provides financial support to struggling families affected by cystic fibrosis. She appeared in brutally honest viral videos in which she talked about topics like death and did it with a smile. Since she was 14, she had been taking to stages and wowing audiences with beyond-her-years wisdom. Along the way, she nurtured a love of travel.
She was wrapping up a three-city tour last fall when pneumonia landed her in a Philadelphia hospital for two weeks.
Doctors there sat her down and told Claire she had to stop flying. Period. They told her that her lungs could collapse and that she ran the risk of dropping dead on a plane, she said. They warned that it would be painful and laid out what it would feel like if an air pocket in her lungs burst.
"You will feel like you're being stabbed to death ... and then blood will stop flowing to your brain," she remembered them saying. "And I was like, 'OK, I got the message! Copy that!' "
She took a three-day train ride home and began to settle down.
Cystic fibrosis affects more than 30,000 people in the United States (and more than 70,000 worldwide), according to the Cystic Fibrosis Foundation. The disease causes an overabundance of mucus, which traps infections and blocks airways in the lungs, complicates digestion, affects the pancreas and other organs and, eventually, leads to respiratory failure.