Award-Winning Slam Poet Finds Inspiration on METRO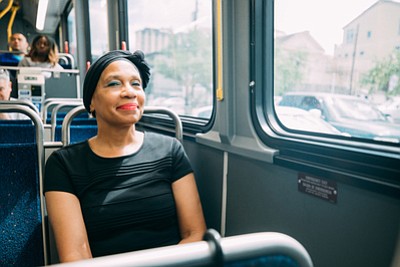 When Marie Brown's car was totaled in an accident she turned to METRO. Two years later, she is a proud transit rider and credits riding METRO with inspiring her prose.
"I'm writing while I'm on the bus. I have my pad and pencil, or I am day dreaming and I can't do either one while I'm behind the wheel," said Brown.

The 59-year-old grandmother is the 2018 Champion of the Houston Poetry Slam (HPS) team and currently coaches the group. She honed her craft as a member of the Texas Southern University debate team under the guidance of the legendary Dr. Thomas F. Freeman. Brown incorporates experiences and people she meets on METRO into some of her writings.
"Once I get my car, I am still going to ride the bus especially if I hit a block. It's taken me out of my comfort zone and better connected me to society," she added.
Marie Brown Drive Less Do More
Last summer, the spoken work artist reached out to METRO staff with suggestions and some of her transit-inspired writings. That led to new METRO commercials featuring Brown. The first in the agency's Drive Less. Do More. campaign.
"I'm very excited, bursting with joy. I'm honored."
Its an honor added to a growing list of the accomplished poet's successes. She was the first woman to earn a spot on a Houston slam team, and this year as a coach of HPS, she has her sights set on bringing home the national title.
"We've never won the national championships. This will be our year."