T. Ellis Juneteenth Historical Art Exhibition at the Texas State Capitol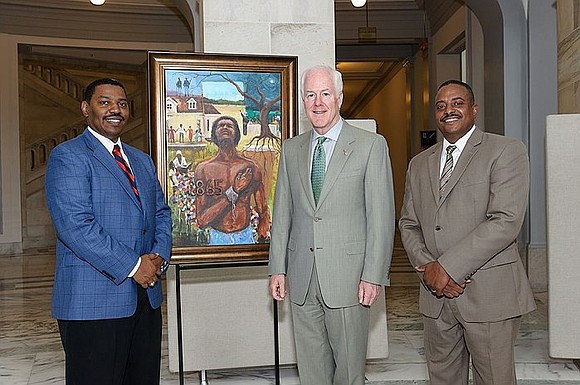 Ted T. Ellis, professional artist for more that 25 years, and is currently pursuing his Masters in Museum Studies. He is the art ambassador for the National Juneteenth Organization and has been selected to showcase five of his historical paintings from his Juneteenth Freedom Project and Emancipation Series at the Texas State Capitol in Austin, TX on June 18, 19, 2018. His exhibition was featured in Washington, DC for the 150th anniversary of Juneteenth at the U.S. Capitol Russell Rotunda and the House of Representatives in 2015. The Galveston Daily News selected "Free At Last" by T. Ellis as the official cover for the 150th-anniversary publication for Juneteenth. The City and County of Galveston, TX has recognized the paintings as national treasures for its past and present importance. A proclamation was given to acknowledge the historical significance of the paintings.
May 23, 2018 ( www.tellisfineart.com) - This acknowledges the historical importance of the art of T. Ellis. The Texas State Capitol is located at 1100 Congress Avenue, Austin, TX 78701. This exhibition was supported by State Representative Dr. Greg Bonnen and his staff from the State of Texas. Special thanks to the following: the Bryan Museum; Galveston Daily News; Galveston Island Convention & Visitors Bureau; the United States Senator John Cornyn; the United States Representative Randy Weber;Dr. Ron Myers, founder of the National Juneteenth Organization and Mr. Sam Collins III, the Texas representative for the National Trust for Historic Preservation and the owner of Stringfellow Orchards historical site.
This year marks the 153rd Anniversary of Juneteenth, for more than a decade Mr. Ellis artistic efforts to pictorially document slavery continues to be an exhibited in museums and cultural institutions throughout the United States. These iconic paintings created by Ted T. Ellis powerfully captures the strength and accomplishments of African –Americans over a period of 400 years.
Gen. Gordon Granger, on June 19, 1865, read executive order #3 in Galveston, TX, proclaiming slavery was officially abolished. This event happened two years later after President Abraham Lincoln signed the Emancipation Proclamation in 1863
The Galveston Daily News, the oldest new publication in the State of Texas, selected T. Ellis painting, "Free At Last" as their official image used for this 150th commemorative magazine. Over 40,000 magazines were published and distributed throughout the state and country.
About the Artist:
Ted Ellis is a passionate man, a graduate of Dillard University and member of Wheeler Avenue Baptist Church in Houston, TX. T. Ellis is passionate about his family, passionate about his heritage, passionate about community and passionate about his art. Just ask him and he proudly declares, "I paint subjects that are representative of the many facets of American life as I know it. I like to think of myself as a creative historian. I was put here to record history and all aspects of American culture and heritage. My sole purpose has always been to educate through my art. "Ellis grew up and was educated in New Orleans, a city known for its history, style, and artistic exuberance. This backdrop inspired Ellis to capture the essence of the subjects of his childhood in the glory of their rich cultural heritage. T. Ellis resides in Friendswood, TX with his family.