Texas State Historical Marker Honors the Astrodome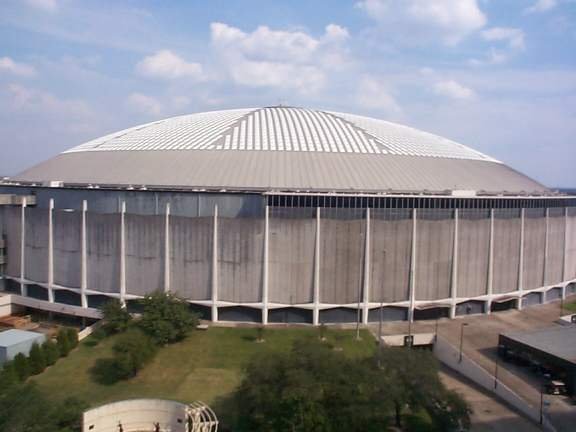 Houston, TX – May 23, 2018 – The Harris County Historical Commission will dedicate a new Texas State Historical Marker for the Astrodome this Tuesday afternoon, May 29 at 3:00 PM. The event will be held on the west side of the Astrodome at NRG Park. Parking should be accessed through Gate 9 at Westridge and Kirby. The lot will open at 2:00 PM that afternoon. There will be brief remarks from multiple speakers including Harris County Judge Ed Emmett, who has been a tireless advocate of repurposing the building, and Dene Hofheinz, daughter of Roy Hofheinz who is most associated with the creation of the Astrodome. Remarks will be followed by the marker unveiling. Attendees are encouraged to wear something Astrodome related.
The research and marker application was done by Historical Commission member and Heritage Society Program Director Mike Vance and Mike Acosta, team historian for the Houston Astros. The two are longtime researchers in Houston sports history, and both have worked for years on efforts to preserve and reimagine the iconic Astrodome. The marker makes the building a Recorded Texas Historic Landmark, judged by the state to be both historically and architecturally significant. This is in addition to the Astrdome's status as a State Antiquities Landmark and the honorific title of being on the National Register of Historic Places.
The Astrodome opened in 1965 as the Harris County Domed Stadium, home of the Houston Astros, the city's newly renamed professional baseball team. It was quickly tagged as the Eighth Wonder of the World, indicative of its well-deserved status as an engineering marvel. It was not only the world's first domed stadium; it was the largest dome on Earth by an exponential margin. The Dome also sported the first luxury suites in sports and the first artificial playing surface. In addition to baseball, it was the home of Houston Oilers and Houston Cougars football, the Houston Livestock Show and Rodeo, famous matches in tennis and boxing, noteworthy basketball games and everything from bloodless bullfighting to stunt motorcycle jumps. In short, it placed Houston on the world stage like nothing ever before.
This Texas State Historical Marker was generously sponsored by the World Champion Houston Astros. Thanks are also in order to Harris County Sports & Convention Corporation and NRG Park.
The Harris County Historical Commission is appointed by the Harris County Commissioners and tasked with preserving, honoring and promoting our county's history. You may learn more at http://www.historicalcommission.hctx.net/