Evacuation order canceled as North Carolina dam deemed safe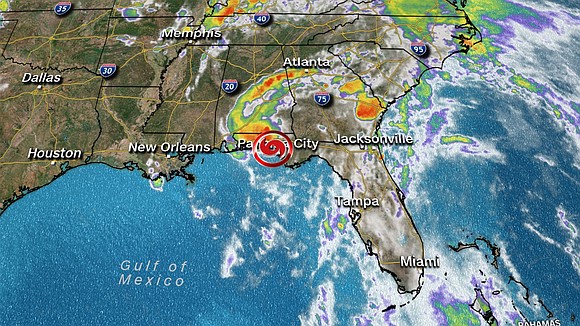 By Nicole Chavez and Joe Sterling, CNN
(CNN) -- Residents and businesses near a dam in North Carolina appeared to have dodged potential disaster Wednesday after an emergency at the location was called off.
Earlier, heavy rains and a landslide in the western North Carolina mountains "compromised the integrity" of Lake Tahoma dam and triggered urgent calls for mandatory evacuations.
Emergency officials said the dam was "at risk of imminent failure" and the weather service extended a flash flood warning for central McDowell County until 12:30 p.m.
The National Weather Service cited reports early Wednesday from McDowell County emergency management officials that "water is spilling around the sides of Lake Tahoma dam. Evacuations ongoing south of the dam."
But later, McDowell County emergency officials said Lake Tahoma had been inspected and deemed safe and a mandatory evacuation was halted. "The emergency at Lake Tahoma has been canceled. The evacuation order is no longer in effect. The engineer has performed a safety inspection and determined that the evacuation order is no longer needed," according to a statement on the McDowell County 911/Emergency Management Facebook page.
"Please remain alert for additional updates, as additional rainfall is expected this afternoon. We appreciate the public's understanding during this storm."
Richelle Bailey, spokeswoman for McDowell County's emergency management department, said about 2,000 people live in the evacuation area and there are about 200 people in shelters.
Bailey said that William Kehler, the county's emergency services director, was to return home on Wednesday after serving on a team deployed to Hawaii to help emergency workers deal with the volcano there.
Landslides, evacuations, flooding
Deadly subtropical depression Alberto, the storm system drenching the Southeast, has been pounding the rugged mountains in North Carolina, spawning landslides, evacuations and flash flooding.
The National Weather Service warned residents to stay off the roads as the increased threat for landslides and debris flows continues through Wednesday night.
"We have issued a flash flood emergency for McDowell County in NC," the service tweeted. "Flash flooding, landslides and rapid rises on waterways are an immediate threat to life and property. Do not attempt to drive unless you are fleeing flood waters.
In Rutherford County, the Town of Lake Lure and Chimney Rock Village declared a state of emergency as the Rocky Broad River surpassed seven and a half feet, officials said on the town's Facebook page.
They said the Hickory Nut Falls Campground and the Rivercreek Campground have been evacuated.
"The Town has had to repeatedly open the floodgates just to balance the continually rising river levels from the Upper Hickory Nut Gorge," the town said. "Residents living along the river and in other low-lying areas or areas prone to landslides are urged to take higher ground immediately."
There is also a flash flood emergency in Marion County, NC, about 20 miles west of Asheville, with 4 to 6 inches of rain fallen, CNN meteorologist Dave Hennen reported. Life-threatening flash flooding is being reported along the Catawba River and its tributaries there.