Democrats capture House, GOP holds Senate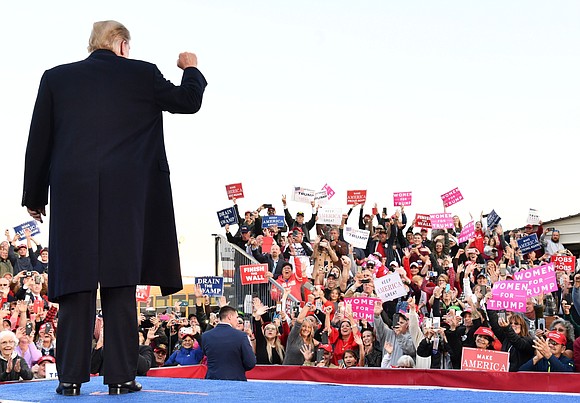 Analysis by Stephen Collinson, CNN
(CNN) -- Democrats on Tuesday captured the House of Representatives for the first time in eight years to exert a major institutional check on President Donald Trump and break the Republican monopoly in power in Washington.
But the GOP solidified their Senate majority after an acerbic midterm election that enshrined America's deep political divides and shaped a highly contentious battleground for the stirring 2020 presidential race.
In his first reaction to a mixed night, Trump chose to celebrate Republican successes.
"Tremendous success tonight. Thank you to all!" he tweeted.
The loss of the House is a serious blow to Trump who must now brace for the novel experience of oversight from Capitol Hill with Democratic committee chairmen promising constraints on his power that the GOP never attempted. Within minutes of their victory being confirmed, Democrats were already threatening to go after Trump's tax returns.
Democratic Rep. Jerrold Nadler, who is slated to steer the House Judiciary Committee warned that the election was about accountability for Trump.
"He's going to learn that he's not above the law," Nadler told CNN.
Democrats won the House, which will change hands for the third time in 12 volatile years, by performing strongly in suburban areas where Trump's flaming rhetoric is toxic. They also attracted a higher proportion of younger voters than at the last midterm elections four years ago and their new lawmakers will make the House younger, more female and more diverse.
"We have the beginning of a new Democratic Party, younger, browner, cooler, more women, more veterans, can win in Michigan, can win in Pennsylvania, can win in Ohio," said Van Jones, a CNN political commentator.
"It may not be a blue wave, it's a rainbow wave," he said.
A CNN/SSRS poll released Monday showed Democrats with a gaping 55% to 42% lead over Republicans among likely voters in a generic congressional ballot. Trump was badly underwater among women voters -- who favor Democrats 62% to 35% -- a gender gap, that if borne out by real votes, could prove devastating to Republican hopes.
The race they ran
But Republicans performed strongly in the deep red states where Trump mounted a frenetic final campaign blitz and proved that despite his low approval rating he remains a potent political force among conservatives.
And keeping hold of the Senate is especially important for Trump since it will give the White House the chance to press on with one of his major legacy-building initiatives, restocking the federal judiciary with conservatives.
Still, Trump will also have to answer for a scorched earth campaign on immigration in the final days that might have helped tip the House to Democrats, even if he can argue that his magnetism among his followers' candidates, such as Rep. Ron DeSantis, who won the Florida gubernatorial race, according to a CNN projection, Marsha Blackburn who will capture the Tennessee Senate race and Mike Braun, who defeated the incumbent Democratic Sen. Joe Donnelly in Indiana.