Little Chef DJ's Specialties? Vegan Mac and Cheese and Teaching About Eating Healthy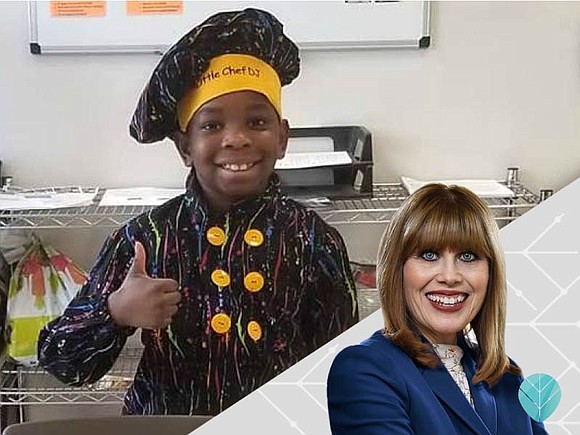 By American Heart Association
Once he had the crowd's attention, but before showing them how to make something delicious, Little Chef DJ played a trivia game.
He asked:
• What vegetable starts with the letter z?
• Which is healthier: fruit juice or water with fruit in it?
• How can you tell the difference between a fruit and a vegetable?
Over three years at the St. Louis Kids Expo, nobody ever gave three correct answers.
Or even two.
The blank stares and wrong guesses underscored the reasons DeEsten Lewis Jr. – aka, Little Chef DJ – was there.
It's not just that folks in his community don't know how to cook healthy meals. Many don't even know what it means to eat healthy.
Tiarra Lewis, DJ's mom, is well aware of this. She learned the connection between what you eat and how you feel only a few years ago.
It happened during nursing school. A lesson about nutrition prompted what she calls "an epiphany" – about her mother's premature death, her own wayward diet and the chance to break that cycle for her children.
Just three years later, her oldest son is spreading the gospel to the masses. With his adorable smile, catchy nickname and legit culinary skills, 8-year-old Little Chef DJ is informing and inspiring everyone he can.
November is Eat Smart Month and Wednesday is Eat Smart Day, making this the perfect time to share the story of Tiarra and DJ Lewis.
But first, let's see how you did on his trivia quiz. The answers are: zucchini, water with fruit in it and fruits have seeds.