GM is reinventing itself. It's cutting 15% of its salaried workers and shutting 5 plants in North America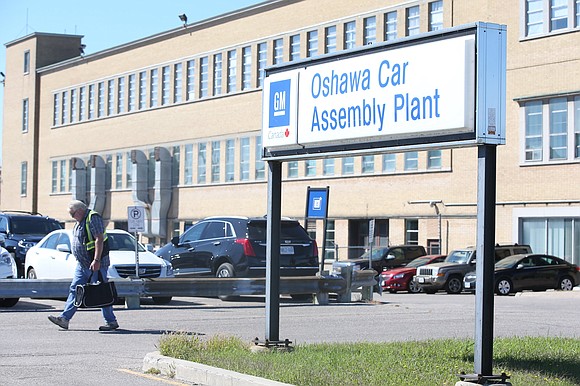 By David Goldman, CNN Business
(CNN) -- General Motors on Monday announced a major restructuring of its global business, saying it will shut production at five facilities in North America and slash its staff. GM will reduce its salaried workforce by 15%, including a quarter of the company's executives.
The moves are the first big steps in the century-old GM's transformation. The company is reinvesting money away from cars that once dominated America's roadways and putting it into technology it believes will power its future.
GM's (GM) new motto is "Zero Crashes, Zero Emissions, Zero Congestion," signaling a shift to self-driving, electric vehicles. But the restructuring is also about making cars people want now. Customers are increasingly shunning sedans in favor of SUVs and hatchbacks.
The company said the plan would make it more efficient, saving $6 billion a year by the end of 2020. GM said its slimmed down production plan would allow it to share technology across all of its vehicles and reduce the amount of time and workers it takes to build cars.
"The actions we are taking today continue our transformation to be highly agile, resilient and profitable, while giving us the flexibility to invest in the future," said CEO Mary Barra, in a statement.
GM said it would shut operations at plants in Detroit; Oshawa, Ontario; Warren, Ohio; White Marsh, Maryland; and Warren, Michigan. The plants made sedans that have waned in popularity, including the Chevrolet Volt, Impala and Cruze, the Buick LaCrosse, and the Cadillac CT6 and XTS. GM said it will no longer make those cars.
Two of the plants made engines and parts for those cars. The facilities made some trucks, but those trucks are also made in Mexico.
The company also said it would close three plants outside North America by the end of next year. One of those closures, in South Korea, had been previously announced.
The transition will come at the expense of about 8,000 salaried workers, and 6,000 hourly workers will either lose their jobs or be reassigned to other plants. The company last month offered voluntary buyouts for 18,000 salaried workers.
General Motors of the future
The company, which was incorporated in 1908, is performing reasonably well — earnings are up and the balance sheet is healthy. But sales are starting to slip in China and North America, two of GM's biggest and most important markets.
Barra said in a conference call with reporters that she wanted to transition the company when times were good. That brought praise from Wall Street: GM's stock rose more than 5% Monday.
"In contrast to times past, General Motors, under CEO Mary Barra, is trying to get ahead of a potential crisis by making cuts now," said Michelle Krebs, executive analyst at Autotrader.
It is battling rival automakers to be first in line to mass-produce the cars of the future. Ford (F) announced in April it would just about end all production of sedans in North America.