Interview: A Talk With The Curator Of Den Music Fest in Atlanta, GA, DJ And Producer Last Name Good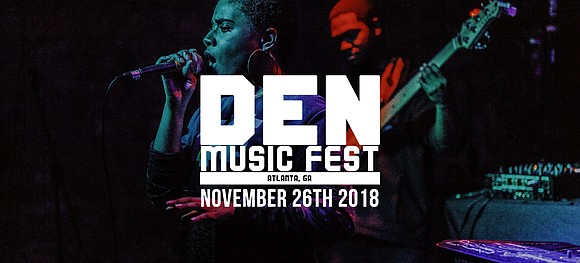 Known for being a staple to entertainment and the music industry in the south, The ATL gets a second go on Den Music Fest on November 26, 2018 (TODAY) at The Music Room Presented by LiveHipHopDaily.TV. If you are in Atlanta, you don't want to miss out! There will be an upstairs and downstair stage filled with talented artists from near and far. The highly anticipated festival is curated by DJ and Producer Justin "Last Name Good" Goodwin who is known for being "The Voice 4 Underground Hip-Hop" with Str8outdaden.com. Str8outdaden has been a tremendous platform for many underground artists throughout the Atlanta-metro area and even across the globe. Hosting a festival was inevitable. Style got a chance to catch up with Goodwin to discuss the 2nd Annual Den Music Fest.

HSM: What gave you the motivation to create Den Music Fest? How many years the fest been in existence?
Last Name Good: The festival was birth from the willingness to showcase true indie music culture. We wanted to be the go to for discovering everything new. This is the 2nd annual.
HSM: Where can you see Den Music Fest in the future?
Last Name Good: We see Den Music Fest as the go to premiere indie music fest. We know our sweet spot and that's discovering new artists. We're looking for The Who will be the Kendrick Lamar's and Ella Mae's in the next 3-5 years.
HSM: What can festival goers expect?
Last Name Good: People who attend Den Music Fest can expect an experience of discovery. Dope talent from across the globe, open cyphers, DJ sets and hands on interaction from the performers.
HSM: What does this festival mean to you?
Last Name Good: Den Music Fest is personal. There's no other way around it. I remember telling close friends of mine that I was starting a festival 4 years ago. I wanted to keep it true to who I was and that was supporting indie artist first and providing a reputable platform.
HSM: As the founder of Str8outdaden "The voice of the underground" what are two ways artist can get the best exposure?
Last Name Good: I believe the two best ways for artist to get exposure is 1) have a plan 2) Consistency
It's really that simple.
HSM: Tell us about your personal music project.
Last Name Good: It's not a secret that I play several roles. Yes I'm a DJ and a producer, but I understand the importance of separation. As a member of Paid In AmeriKKKa [Check out "No Free Lunch"] my job is to put on the best show when i touch that stage. As a facilitator I also know when it's time to play the background and make the best possible experience.
HSM: I noticed Izzar Thomas (Houston local) will be at the fest, what are some other cities represented at the fest on the line-up?
Last Name Good: We have artists from the following cities: Victorville, Ca, Oklahoma City, Ok, Mobile, AL, Raleigh, NC, St. Louis, MO, New Orleans, LA, Meridian, MS, Atlanta, GA, just to name a few.
HSM: How can readers stay updated and possibly get involved?
Last Name Good: Everything you need is on denmusicfest.com
Be sure to follow Den Music Fest on Facebook, Twitter and Instagram @denmusicfest