Chef for Seniors Launches in Houston With Two New Franchises
Customized catering service to launch in Greater North Houston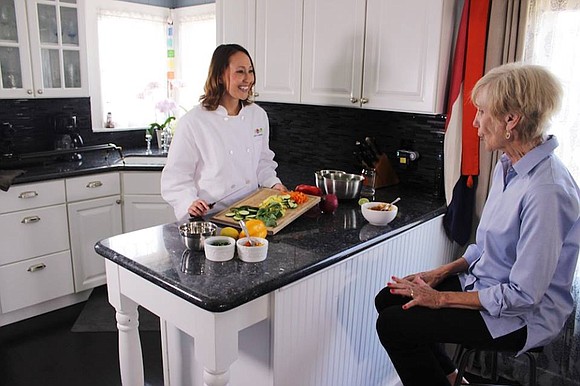 HOUSTON, TX - Next month, Houston will be home to two new Chef for Seniors franchises, part of a growing national franchise that specializes in providing affordable, fresh and healthy meals to senior citizens. Franchisees Shonah Jefferson and Laurent Vals will launch their franchises in the North Houston area with two regions: Lake Houston, Kingwood, Humble, Spring, Porter, and Woodlands (East) and the Woodlands, Conroe, Egypt, and Shenandoah, respectively.
The company's local professional chefs prepare affordable meals for the week in the home using the freshest ingredients, while offering a fun interactive experience. Chefs for Seniors is a private meal preparation service which specializes in providing companionship while the chefs prepare the meals in the home of the client. Clients select meals from a regional menu which can be customized to the client's dietary preferences and needs. The process aims to be an affordable option for seniors who may want fresh home-cooked meals, but who may be physically unable to cook the meals for themselves.
"For me the companionship with the seniors is what drew me to this venture," recounts Jefferson. "I liked the idea of moving beyond just a quick transaction of delivering a meal to spending time with someone on a weekly basis to get know them."
Chefs for Seniors offers rotating menu options, which includes select chef creations inspired by the region. Clients select their desired meal in advance, allowing the chef to shop and prepare the meals on a designated cooking day. Weekly meal plans begin at $125 for four entrees packaged into 10-12 servings (additional costs may apply for special dietary needs). A chef's visit usually lasts between two and two and a half hours. After the meals are prepared and stored according to the client's preferences, the chef cleans the kitchen before leaving the home.
Jefferson, a native Houstonian and entrepreneur, is no stranger to the kitchen with several years under her belt working in and managing her family's restaurant that has been a local mainstay for more than 40 years. Vals is an award-winning pastry chef and chocolatier with experience in kitchens in Paris and New York City.
Chefs for Seniors was started in 2013 by Barrett Allman and son Nathan Allman. The Allmans were inspired by the needs of an older family member who could no longer cook meals and had to enter into assisted living. The meal delivery service has been featured by NPR, The Boston Globe, Fast Company, and more. Within the last year, the organization has expanded to fourteen cities across the country.
To learn more about Chefs for Seniors visit www.chefsforseniors.com. To book your meal service see the designated contact information for each region below.