Houston's "Original" MLK, Jr. Parade Teams Up with the City of Houston and Black Heritage Society for its 41st Celebration
Registration is now open for the parade which is officially licensed by the King Center's Intellectual Property Management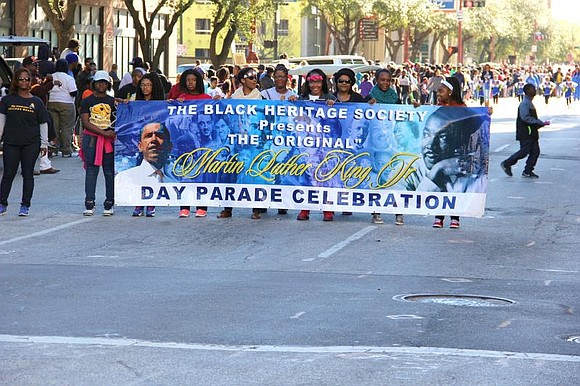 Houston, TX, October 1, 2018 -- Houstonians and visitors to the Bayou City now have the chance to ring in the new year and honor the legacy of Dr. Martin Luther King, Jr. with a commemorative parade and community activities. The Houston Martin Luther King, Jr. Parade Foundation, Inc. and Black Heritage Society will host the 41st Annual "Original" MLK, Jr. Birthday Parade on Monday, January 21, 2019, from 10 a.m. to 12 p.m. Celebrations will begin in the heart of Downtown Houston at Minute Maid Park (located at the corner of Texas & Crawford).
In early July, Mayor Sylvester Turner announced that the City of Houston would provide primary support for the historically-recognized celebration through a collective partnership with the Black Heritage Society, founded by Mr. Ovide Duncantell, a longtime community advocate.
Mayor Sylvester Turner said he wants the city to support one parade because a house divided against itself cannot stand.

"The City of Houston will honor the legacy of Dr. King by uniting for one official MLK Day Parade in 2019. I want the parade to be a celebration of our diversity and represent the values Dr. King preached during his lifetime," said Mayor Sylvester Turner. "Houstonians have proven time and again that we can count on each other, so I am asking everyone to participate in this parade and help promote a positive event. In the words of Dr. King, 'the time is always right to do what is right."
With a theme of unity and inclusion, this year's parade will hinge on these famous words of Dr. King: "The time is always right to do what is right." The Black Heritage Society anticipates next year's celebration will be one of largest in the organization's history, with an anticipated attendance of over 40,000 plus patrons across Houston and the U.S.
"With the support of the City of Houston and the Mayor, the Black Heritage Society will be able to fully carry out Dr. King's legacy to bring about change by promoting peace, service and equality in this great city," said Mr. Sylvester Brown, Operations Manager for the Black Heritage Society. "Our parade enables us to remember Dr. King's meaningful activism and reconnect with one another as we celebrate in true Houston style."
The parade and pre-celebration activities during the federal holiday weekend are officially licensed by the King Center's Intellectual Property Management ("IPM") of Atlanta, GA. The ostentatious and diverse celebration will showcase a variety of marching bands, decorated floats, dance teams, military and ROTC groups, first responders, city and county officials, VIP guest appearances and notable organizations from around the world.
Immediately following the parade, the party will move next door for the 3rd Annual MLK, Jr. Taste of Houston festival, located in lots B and C of Minute Maid Park in Downtown Houston. The family-friendly experience is an upbeat blend of popular cuisines and desserts, artwork, kid-friendly activities and live musical performances.
Attendance for both events will be free to the general public. This year's parade celebration is part of a full weekend of festivities and community service projects with a focus on recognizing the life and legacy of beloved civil rights leader, the late Dr. Martin Luther King, Jr. The schedule of activities will kick off on Thursday, January 17, 2019, and continue throughout the holiday weekend.
An official lineup of community events and projects will be announced soon. Registration for this year's parade, including parade entry, volunteering, festival vending and sponsorship opportunities are now open to the general public.
For more information, please call 713-236-1700 or visit the official website at www.blackheritagesociety.org.