Couple ties knot in hot air balloon during festival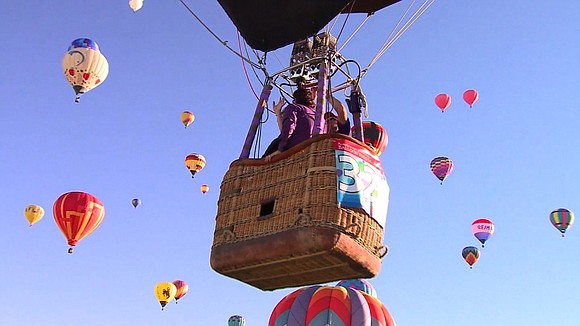 By Kay Dimanche
ALBUQUERQUE, N.M. (KOAT) -- After decades of crewing hot air balloons, Kevin Gill is preparing for the most important balloon ride of his life.
"I'm excited, nervous. I know that she's my partner of life, and everything's coming together," said Gill.
He's marrying the love of his life, Heather Silva, at the Albuquerque International Balloon Fiesta.
"We come together on this beautiful morning to celebrate the marriage of Kevin and Heather," said Gill.
The event has become a big part of the couple's love story.
"Two years ago, he found me on Facebook via a mutual friend of ours from college, and we met up at Fiesta and we decided to long-distance date, and he proposed a year later, which was last year's Fiesta," Silva said.
Today they tied the knot during a ceremony inside the hot air balloon Gill's been crewing for years.
"It only makes perfect sense to get married in a balloon," said Gill.
"Whenever I see a hot air balloon, I always know that that's part of our relationship. Just how much I love her," said Gill.
Surrounded by loved ones and many onlookers, the two made it official.
And up they went, floating away in the purple haze balloon.