Hurricane Michael, nearing landfall, could be Florida Panhandle's 'worst storm ... in a century'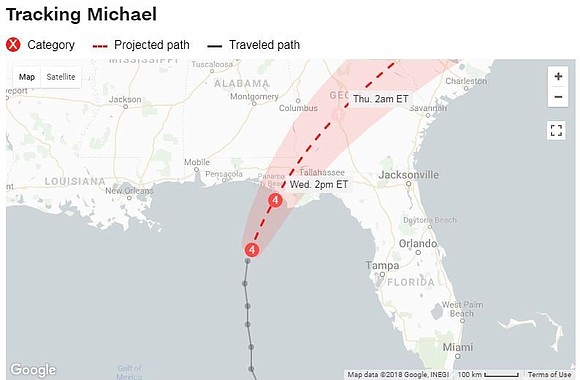 By Jason Hanna, Susannah Cullinane and Faith Karimi, CNN
(CNN) -- A terrifyingly powerful Category 4 Hurricane Michael was poised to become the strongest hurricane to hit the Florida Panhandle in recorded history Wednesday, its rapid strengthening catching some by surprise and leaving anxious officials telling those who didn't evacuate: It's time to hunker down.
"This is the worst storm that our Florida Panhandle has seen in a century," Gov. Rick Scott said. "Hurricane Michael is upon us, and now is the time to seek refuge."
The extremely dangerous Michael is expected to make landfall in the Panhandle, perhaps near Panama City and Laguna Beach, in the afternoon, CNN meteorologist Chad Myers said.
Among the concerns: Flash-flooding with heavy rain; life-threatening storm surges up to 14 feet high; and devastating winds, not just in the Panhandle, but southern Alabama and Georgia.
The storm's center had maximum sustained winds of 150 mph late Wednesday morning.
"There will be hundreds of thousands, if not millions, without power for a very long time," Myers said.
Key developments
• As of 11:30 a.m. ET, Michael's center had maximum sustained winds of 150 mph, and was about 50 miles south-southwest of Panama City.
• About 3.8 million people were under hurricane warnings in Florida's Panhandle and Big Bend regions, along with parts of southeastern Alabama and southern Georgia. Tropical storm warnings cover 15.9 million people in several states.
• Bridges connecting oceanfront communities to inland areas, such as the Hathaway Bridge linking Panama City Beach to Panama City, were closed Wednesday morning because of deteriorating conditions.
• At 11 a.m. ET, the storm surge in coastal Apalachicola was bringing water levels more than 6 feet above the normal tide level. Up to 14 feet of storm surge is expected in Apalachicola, likely this afternoon, near the peak of the storm.
Governor: 'It's too late to get on the road'
Gov. Scott on Monday and Tuesday urged people to get out of the way as Michael strengthened rapidly over the Gulf of Mexico after lashing Central America and western Cuba. Officials issued mandatory or voluntary evacuation orders in at least 22 counties on the Florida Gulf Coast.
On Wednesday morning, he said on Twitter that "the time for evacuating along the coast has come and gone."
"If you chose not to evacuate ... you're not going to be able to get out. This thing is coming now. ... It's too late to get on the road," he told CNN.
Scott extended a state of emergency to 35 counties and activated 2,500 National Guardsmen; he said more than 1,000 search-and-rescue personnel will be deployed once the storm passes.
President Donald Trump approved a pre-landfall emergency declaration to provide federal money and help in Florida.
If it makes landfall as a Category 4, Michael would not only be the strongest hurricane to hit the Panhandle in recorded history, but it also would be the strongest storm in terms of wind speed to make landfall in the country this year.