Beto O'Rourke: Of the People, For the People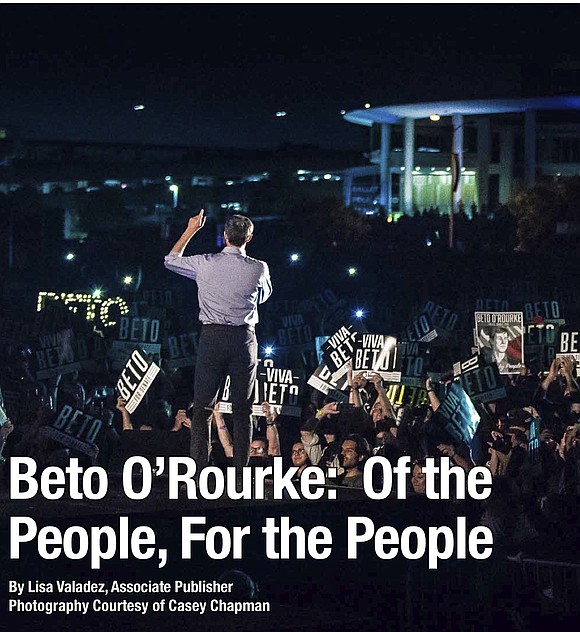 The first time I saw Beto O'Rourke was February 2017, well before he became "Beto O'Rourke For Senate."
Weeks after the "travel ban" became temporary law, I was invited to speak at the No Ban, No Wall rally on the steps of the Capitol Building in Austin. Nerves ran through my body as I was asked to speak in front of thousands of people. At the same time, there was a bit of excitement. I would be speaking right before many prominent political figures and while they were trained public speakers, I anxiously reviewed my speech and waited for my turn.
O'Rourke, upon first glance, is charming: tall, warm smile, firm handshake. All qualities of a potential politician wanting to do right by his constituents. He introduced himself with direct eye contact. "Beto O'Rourke, please to meet you," he said. We spoke amongst ourselves for a moment with a chanting crowd serving as a proper backdrop. He reassured me that I would do just fine just as he stood up to address the people. Poised and carrying nothing but heartfelt honesty, he made an immediate connection with those chanting for an end to the travel ban and disrespect of Mexicans, Mexican-Americans, immigrants and more.
Just like that, Beto O'Rourke, in my eyes became an intriguing candidate. He's currently the State Congressman from El Paso and instead of playing things by the book or by pandering; O'Rourke fluently recited his speech in Spanish. No amount of impromptu research would be right to sum up the effect O'Rourke had on the crowd that February day. As the political chatter flew all around as to see who would be gunning for specific positions in regards to gubernatorial and senatorial races, it was already settled: Beto was going to go up against Ted Cruz in November of 2018.
In the twenty months since that "No Ban, No Wall" speech, O'Rourke has gone completely grassroots in order to meet with the people of Texas, supporters and non-supporters alike. He's campaigned in every county in this great state, took part in town halls, meet and greets, rallies, voter registration drives and so on. He was a Texas phenom for a little while, a people person in the Lone Star State.
Then "Now This," the social media news aggregator got a hold of O'Rourke's remarks in regards to NFL players supporting Colin Kaepernick's right to protest police brutality as the national anthem would be played. His response, in front of an all-white crowd kicked up a firestorm of support nationwide. "I can think of nothing more American than to peacefully stand up or take a knee for your rights anytime, anywhere, anyplace." It no longer became a Texas thing. O'Rourke had become national. Some had even hoped that he would run for President in 2020 and many had begun to ask how to donate to his campaign. #BetoForTexas shirts sprung up in the same fashion as the Nike "Just Do It" slogan. Yards had become overwhelmed with "Beto For Senate" signs. It wasn't just in areas such as River Oaks but in Third Ward, Stafford, Sugar Land and more. The entire state, well large segments of it at least from a certain eye -- are pulling for him.
O'Rourke has captivated Texans with his authentic personality, passion for the people and willingness to be an active listener. To have the desire to grasp what people unlike him of a different race, nationality, gender, socioeconomic status and more - what those people are looking for in their politicians. What necessary steps need be taken in order to improve their lives, both economically and socially.
His beliefs and stances on the issues are actively displayed on television, in print media as well as his campaign website: BetoForTexas.com. Most of all, he wants to find common ground, even in areas where we may not see it.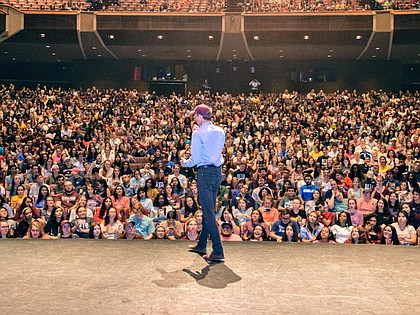 HSM: The viral video, the momentum gained – how have things shifted/changed for you and your campaign?
Beto O'Rourke: People have been texting me about it, some agree and others disagree. I appreciate hearing from everyone on this but I know this is a conversation we must have. If in someway, I have been helpful in moving that conversation forward then I am very grateful to have been a part of that. I think it is connected to other issues we are running to address and that includes equality of opportunity, equity, and education along with the disproportionate burden born by communities of color when it comes to the criminal justice system. I think ultimately for me, I think it is ensuring everyone can live to his or her full potential and we are not there in this country yet.
HSM: Our readers have reached out to us in the past Presidential elections and some were not compelled to vote because some felt there wasn't a candidate that they truly supported. Some even stated, "here is another White person coming to the Black community for a vote. That's all they want – a vote and that's it."
O'Rourke: Here I am. I will continue to show up everywhere for everyone. For those that have been written off and for those who have been taken for granted. For those that have been made to believe that they don't count. We are going to the people in their homes, having round table meetings – it's where our team spends its resources. We don't listen to PAC's or special interest groups, instead, our focus is on the priorities of the people – all people – Criminal Justice Reform – and it's not just the talk, co-sponsoring legislation that would end the cash bail system in Harris County and the state of Texas. Leading on medical care for all so that people who suffer mental illnesses don't have to purposely get arrested to get medical treatment at the county jail, which I was able to witness recently when I visited. Public education – ensuring that we extend the public education system so that it begins in Pre-K universally for every child and make it a full day so that every child begins at the same starting line.
So these any many other issues, including being treated equally under the law –
these are important issues expressed to me and I am actively listening to each and every one of them .
There is so much greatness to be said about O'Rourke. He continues to wow me and countless others at each and every town hall gathering. At this point, I can only tell you, the reader, to stop reading and go to an O'Rourke rally and to experience exactly what I witnessed the very first time I met Beto O'Rourke in early 2017.