DOONEY & BOURKE Expands MLB Astros Accessories Collection for Fans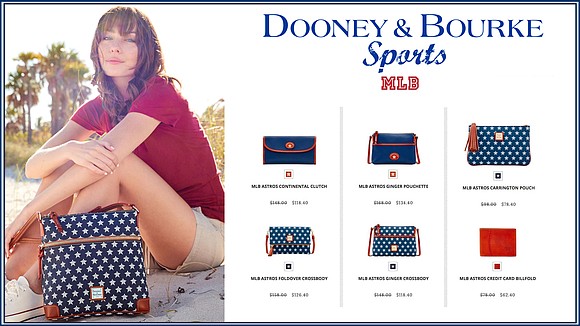 With Saturday's MLB Playoff Game approaching, cheer on the HOUSTON ASTROS with the latest collection of accessories from DOONEY & BOURKE's MLB ASTROS Collection.
Now is the perfect time to show off your devoted HOUSTON ASTROS team spirit with the perfect accessory to complete you game day outfit. For any 'GAME DAY ACCESSORIES' or future 'HOLIDAY GIFT GUIDES' you have in the works I thought you might like to take a look at these great new styles!
The newest assortment includes the following:
MLB Astros Pebble Leather Ginger Pouchette ($134)
MLB Astros Pebble Leather Continental Clutch ($118)
MLB Astros Zip Top Card Case ($62)
MLB Astros Foldover Crossbody ($126)
MLB Astros Carrington Pouch ($78)
Whether you're looking for a HOUSTON ASTROS wallet or crossbody, you can find the perfect accessory to fit your needs at the official stadium store as well as online: https://www.dooney.com/mlb/houston-astros/