Trump defends Saudi Arabia as accusations mount over journalist disappearance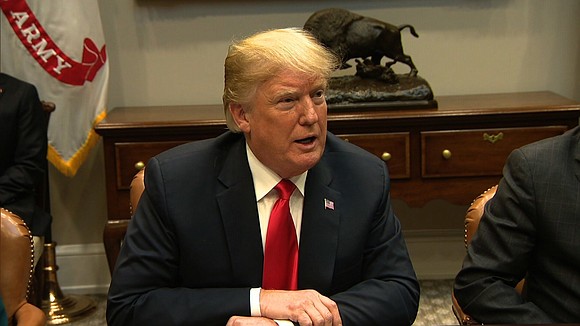 By Bard Wilkinson, CNN
(CNN) -- President Donald Trump has defended Saudi Arabia as accusations mount over its de facto ruler's close links to the men who apparently killed a journalist in the kingdom's consulate in Istanbul.
Saudi Arabia has come under intense international pressure to explain Washington Post columnist Jamal Khashoggi's disappearance after he visited the consulate on October 2 to obtain papers that would have allowed him to marry his Turkish fiancée.
The disappearance of Khashoggi, an insider-turned-critic of the Saudi government, has prompted international outrage and calls for punitive action against Saudi Arabia.
It has also thrown Trump's close ties with the kingdom into the spotlight as Secretary of State Mike Pompeo is engaged on a tough diplomatic mission to contain the crisis.
On Tuesday sources told CNN that a group of Saudi men, whom Turkish officials believe are connected to Khashoggi's possible death, was led by a high-ranking intelligence officer, with one source saying he was close to the inner circle of the Kingdom's Crown Prince Mohammed bin Salman.
Trump suggested in an interview on Tuesday that the wave of criticism the Middle Eastern kingdom has faced over Khashoggi's disappearance is premature, comparing the case to sexual assault allegations against recently confirmed Supreme Court Justice Brett Kavanaugh.
"Here we go again with you know you're guilty until proven innocent," Trump told The Associated Press in an interview at the White House.
"I don't like that," he added. "We just went through that with Justice Kavanaugh, and he was innocent all the way."
Later during an interview with Fox, he said that if Saudi Arabia knows what happened to Khashoggi, "that would be bad."
'Must be held to account'
Despite Trump's caution, Washington's "working assumption" is that Khashoggi was killed inside the consulate, a US official previously told CNN.
On Tuesday, G7 foreign ministers from Canada, France, Germany, Italy, Japan, UK and the US, plus the high representative of the European Union, urged Saudi Arabia to conduct a "thorough, credible, transparent, and prompt investigation."
"Those bearing responsibility for his disappearance must be held to account," they added in a statement.
Pompeo will arrive in Ankara, Turkey, on Wednesday to meet with Turkish President Recep Tayyip Erdogan. He visited Saudi Arabia on Tuesday where he held talks with King Salman and the crown prince, who he said "strongly denied" any knowledge of what happened to Khashoggi.
"My assessment from these meetings is that there is serious commitment to determine all the facts and ensure accountability, including accountability for Saudi Arabia's senior leaders or senior officials," Pompeo said Tuesday after meeting.
Turkish authorities believe 15 Saudi men who arrived in Istanbul on October 2 were connected to Khashoggi's possible death. At least some of them appear to have high-level connections in the Saudi government.
Turkish officials have told CNN that Khashoggi's body was dismembered after he was killed in the consulate.
Several US officials have told CNN that any such operation could not have happened without the crown prince's direct knowledge.