Saudi Crown Prince calls Khashoggi killing 'heinous' after inner circle is implicated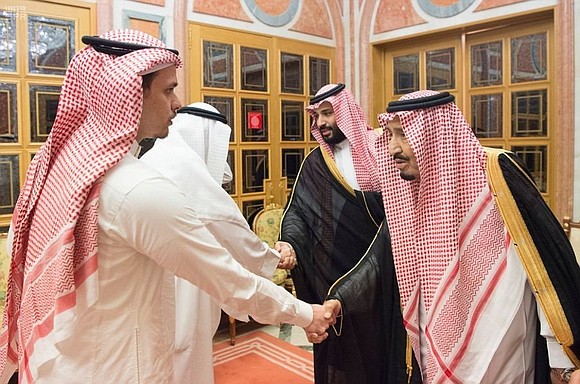 By John Defterios, Adrian Lydon, Elise Labott and Laura Smith-Spark, CNN
(CNN) -- Saudi Crown Prince Mohammed bin Salman has described the killing of Jamal Khashoggi as a "heinous" crime, in his first comments since some of his closest aides were implicated in the Saudi journalist 's death.
Speaking at an investors' conference Riyadh that has been overshadowed by the crisis, bin Salman said those responsible for the killing would be brought to justice.
"This was a very, very painful incident for all Saudis and also for everybody on this planet. It was unnecessary," he said, he said.
"Saudi Arabia will go and implement all necessary rules and investigate deeply in order to achieve results. And to bring to justice those who are responsible for this heinous crime and they will be put before courts," he said.
Bin Salman also insisted that good working relations between Saudi Arabia and Turkey should not suffer as a result of the situation. "We will be sure to see that we cooperate with each other, that justice will be done," he said.
The Crown Prince's remarks came a day after Saudi officials offered a new accounting of the events surrounding Khashoggi's death.
Earlier Wednesday, Bin Salman and Turkish President Recep Tayyip Erdogan discussed the journalist's killing in a phone call, according to Turkey's state news agency Anadolu and the Saudi Press Agency.
Bin Salman requested the call to discuss a joint effort to shed light on all aspects of the death, Anadolu reported, citing Turkish presidential sources.
Controversy over Khashoggi's death has overshadowed the Future Investment Initiative in Riyadh, dubbed "Davos in the desert." Dozens of top executives have pulled out amid questions over the Saudi government's role in the journalist's killing.
Members of bin Salman's inner circle have been blamed for the Washington Post columnist's death. Saudi Arabia said Khashoggi was killed during an interrogation gone wrong and vowed to bring rogue operatives to justice. But several US officials told CNN that any such operation could not have happened without bin Salman's direct knowledge.
Saudis say original plan was to drug Khashoggi
Saudi officials on Tuesday said the original plan was to convince Khashoggi, who had been writing critical columns in the Washington Post, to return to Saudi Arabia. If Khashoggi refused, an official told CNN, the next step was to drug him with a tranquilizer and take him to a safe house in Istanbul for 48 hours. If Khashoggi still refused to return to Saudi Arabia at that point, the team was to leave and a "local collaborator" was to let him go, the source claimed.
The Saudi official also claimed that a forensic expert was present to erase all evidence of Khashoggi's presence at the consulate and safe house, so that if Khashoggi said later that he had been kidnapped, there would be no proof.
The official has provided no corroborating evidence for this new version of events, another iteration of an evolving story from Saudi Arabia. The New York Times has reported that the forensic expert was equipped with a bone saw.