Saudi Crown Prince calls Khashoggi killing 'heinous' after inner circle is implicated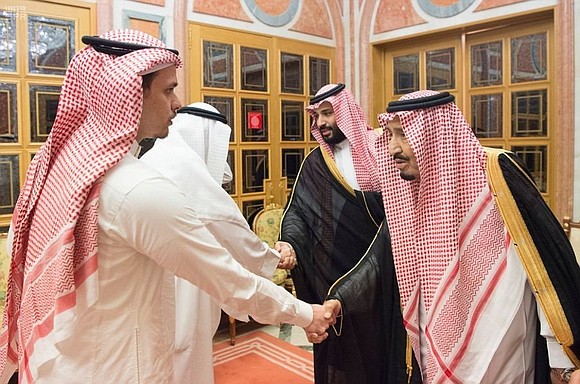 By John Defterios, Adrian Lydon, Elise Labott and Laura Smith-Spark, CNN
(CNN) -- Saudi Crown Prince Mohammed bin Salman has described the killing of Jamal Khashoggi as a "heinous" crime, in his first comments since some of his closest aides were implicated in the Saudi journalist 's death.
Speaking at an investors' conference Riyadh that has been overshadowed by the crisis, bin Salman said those responsible for the killing would be brought to justice.
"This was a very, very painful incident for all Saudis and also for everybody on this planet. It was unnecessary," he said, he said.
"Saudi Arabia will go and implement all necessary rules and investigate deeply in order to achieve results. And to bring to justice those who are responsible for this heinous crime and they will be put before courts," he said.
Bin Salman also insisted that good working relations between Saudi Arabia and Turkey should not suffer as a result of the situation. "We will be sure to see that we cooperate with each other, that justice will be done," he said.
The Crown Prince's remarks came a day after Saudi officials offered a new accounting of the events surrounding Khashoggi's death.
Earlier Wednesday, Bin Salman and Turkish President Recep Tayyip Erdogan discussed the journalist's killing in a phone call, according to Turkey's state news agency Anadolu and the Saudi Press Agency.
Bin Salman requested the call to discuss a joint effort to shed light on all aspects of the death, Anadolu reported, citing Turkish presidential sources.
Controversy over Khashoggi's death has overshadowed the Future Investment Initiative in Riyadh, dubbed "Davos in the desert." Dozens of top executives have pulled out amid questions over the Saudi government's role in the journalist's killing.
Members of bin Salman's inner circle have been blamed for the Washington Post columnist's death. Saudi Arabia said Khashoggi was killed during an interrogation gone wrong and vowed to bring rogue operatives to justice. But several US officials told CNN that any such operation could not have happened without bin Salman's direct knowledge.
Saudis say original plan was to drug Khashoggi
Saudi officials on Tuesday said the original plan was to convince Khashoggi, who had been writing critical columns in the Washington Post, to return to Saudi Arabia. If Khashoggi refused, an official told CNN, the next step was to drug him with a tranquilizer and take him to a safe house in Istanbul for 48 hours. If Khashoggi still refused to return to Saudi Arabia at that point, the team was to leave and a "local collaborator" was to let him go, the source claimed.
The Saudi official also claimed that a forensic expert was present to erase all evidence of Khashoggi's presence at the consulate and safe house, so that if Khashoggi said later that he had been kidnapped, there would be no proof.
The official has provided no corroborating evidence for this new version of events, another iteration of an evolving story from Saudi Arabia. The New York Times has reported that the forensic expert was equipped with a bone saw.
The official said that of the 15 Saudis who took part in the operation, a total of nine were at the consulate, with "three or four to question him and the rest to handle logistics." There was no explanation why three to four people would be needed for questioning, or what logistics the others would attend to.
The rest of the Saudi squad, including generals and their security detail, waited at the safe house, according to the source.
Turkish officials have said that Khashoggi was set upon immediately after entering the consulate, and then beaten, tortured and dismembered.
The Saudi official told CNN that Khashoggi became agitated after being told he would be drugged and taken to a safe house, at which point he tried to resist, was put in a chokehold and died.
Turkish investigators last week searched the Saudi consulate and consul general's residence in Istanbul as they hunted for clues to Khashoggi's fate. A well-placed Turkish official told CNN on Wednesday that permission to search the well at the consul's residence was not given to Turkish investigators at that time.
Erdogan and bin Salman in the spotlight
Speaking Wednesday at the presidential palace, Erdogan also vowed to bring the perpetrators to justice. "We are determined not to allow those responsible -- those who ordered the crime and those who committed it -- to escape justice," he said.
"I shared the confirmed information on Khashoggi murder. Some people are uncomfortable about it," he added. "Our determination and transparency are appreciated not only by victim's family but also by the whole world."
On Tuesday, Erdogan gave a speech in Ankara in which he rejected Saudi Arabia's claim that Khashoggi was killed accidentally, saying he had died as a result of a "ferocious" and premeditated murder.
Addressing members of his ruling party, he made it clear without mentioning bin Salman by name that he held the top leadership in Riyadh responsible for Khashoggi's death. It was not sufficient to blame on rogue elements in the Saudi security services, Erdogan said.
The Crown Prince and his father King Salman were pictured shaking hands Tuesday with Salah bin Jamal Khashoggi, the journalist's eldest son, and Sahl bin Ahmad Khashoggi, another relative, at Al Yamama Palace in Riyadh. Jamal Khashoggi has been prevented from leaving Saudi Arabia.
Trump: 'Worst cover-up ever'
Meanwhile, US President Donald Trump offered his most stinging indictment yet of a Saudi effort to silence a dissident journalist, calling the series of events that led to Khashoggi's death "the worst cover-up ever."
Trump has become increasingly irritated by the fallout from Khashoggi's death, multiple sources who have heard him voice his frustration told CNN.
CIA Director Gina Haspel, who has been sent to Turkey on a mission to learn more about the evidence the country holds, will brief Trump on her return to Washington, US Vice President Mike Pence said Tuesday.
US Secretary of State Mike Pompeo said the United States would be revoking the visas of those who killed Khashoggi, and said that the administration has "identified at least some of the individuals responsible."
The State Department was also working with the Treasury Department to apply human rights-related sanctions that includes the freezing of assets and a travel ban, Pompeo said.
UK Prime Minister Theresa May said Britain also was taking action against any Saudi suspects in Khashoggi's death and that any individuals holding UK visas would have them revoked directly.
May told lawmakers she would talk to King Salman later Wednesday. She added: "We condemn the killing of journalist Jamal Khashoggi in the strongest possible terms. And after his disappearance we made clear that Saudi Arabia must cooperate with Turkey and conduct a full and credible investigation."