Bregman, Keuchel, Maldonado Named Gold Glove Award Finalists
Winners to be announced on Sunday, Nov. 4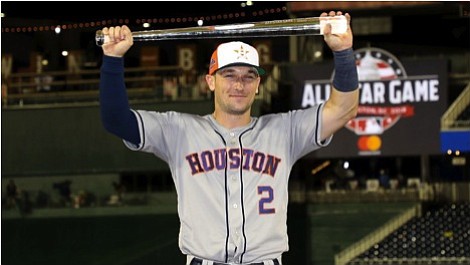 HOUSTON, TX - Rawlings Sporting Goods Company, Inc. announced today that Houston Astros third baseman Alex Bregman, left-handed pitcher Dallas Keuchel and catcher Martín Maldonado have been named finalists for American League Rawlings Gold Glove Awards.
The Rawlings Gold Glove Award was created in 1957 and serves as the highest symbol of defensive excellence in Major League Baseball. The winners, which will be announced on Sunday, Nov. 4, are determined by combining votes from Major League managers and coaches with a sabermetric component.
Bregman, 24, is a first-time finalist for the Gold Glove in what was just his second full Major League season. The Astros Most Valuable Player as voted on by the Houston Chapter of the BBWAA, Bregman led the club this season in games played with 157, including 133 starts at third base, 28 at shortstop and one at second base. While at third base, Bregman posted a .962 fielding percentage with 245 assists, while committing just 13 errors in 342 total chances.
Keuchel, 30, is a three-time Gold Glove Award winner, taking home the honor in consecutive seasons from 2014-16. For the third time in his career, Keuchel went a full season without committing an error (also 2013, 2016), successfully handling 41 total chances with 27 assists in 34 starts in 2018. He led all American League pitchers in total chances, while ranking tied for second in assists and tied for seventh in putouts (14). Keuchel is the only pitcher in franchise history to win a Gold Glove Award and is looking to become the fourth Astro at any position to win four-or-more Gold Glove Awards, joining second baseman Craig Biggio (1994-97), outfielder Cesar Cedeño (1972-76) and third baseman Doug Rader (1970-74). If he wins, he would become the first AL pitcher to win four Gold Gloves in a five-year span since Kenny Rogers won four of five from 2002-06.
Maldonado, 32, is the reigning AL Gold Glove Award winner at catcher, having taken home the award with the Angels in 2017. Acquired from Los Angeles at the trade deadline, Maldonado combined to play in 119 games this season with the Angels and Astros, making 111 starts behind the dish, 77 for the Angels and 34 with the Astros. He led the AL in total chances (1079) and putouts (1021), while ranking second in games and third in innings caught (1967.2). He also led all qualifying catchers in caught stealing percentage (48.6%) and allowed just 18 steals in 35 attempts on the season. During his Astros tenure, Maldonado did not commit an error in 40 games, while catching five of eight attempting basestealers.
The Astros did not have a Gold Glove Award winner in 2017 with Keuchel being the last Astro to win it in 2016.