16 new airports and terminals we can't wait to fly into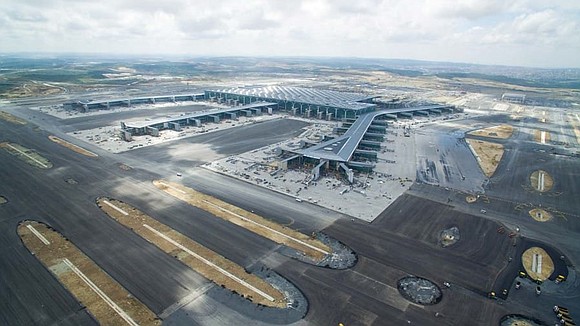 By Matt Falcus, CNN
(CNN) -- With more people than ever flying, cities around the world are building new airports and upgrading old terminals to create facilities capable of handling tens of millions of passengers.
The results are modern, stylish architectural statements that banish the dark, crowded travel spaces of the past.
Here are 16 of the most exciting airport projects under construction or redevelopment.
Istanbul New Airport
Turkey has great ambitions to become a new meeting point between east and west. Its national carrier, Turkish Airlines, already flies to more countries than any other airline globally, and with the prosaically named Istanbul New Airport opening soon, the country now has a gateway to be proud of.
Replacing the older Atatürk Airport, it is a mega hub that will eventually be capable of handling 150 million passengers per year, perhaps even rivaling Dubai in terms of connecting travelers.
The airport's official opening is scheduled for October 29, but the latest reports say it won't be fully operational until the end of 2018.
Al Maktoum International Airport (Dubai)
Already open and handling cargo plus a small selection of passenger flights, Al Maktoum International Airport southwest of downtown Dubai is likely to one day be the largest and busiest in the world if plans are to be believed.
Al Maktoum -- commonly known as Dubai World Central -- will one day have five runways, three terminals and be home to the huge fleets of superjumbos operated by Emirates. It will boast shorter walking distances for passengers, and a high-speed rail link to the center of Dubai.
Singapore Changi Airport
The world's favorite airport and Asian mega-hub, Singapore Changi, is eagerly working towards opening its new Jewel and Terminal 5.
The Jewel is an impressive glass multi-use area connecting the existing terminals and introducing shopping, eating and entertainment facilities for passengers and visitors to use. It will feature the world's tallest indoor waterfall, and is set to open in 2019.
Terminal 5 will open to the east of the current terminals in the mid-2020s, with a capacity of 50 million annual passengers.
LaGuardia Airport (New York)
Coming not a minute too soon is the complete revamp and rebuild of the terminals and taxiways at New York's crowded LaGuardia airport to create one unified terminal structure with more gates and more space, capable of handling the thousands of daily passengers.
The old low ceilings and cramped corridors in a confusing mix of different terminals will make way for light, airy spaces with plenty of windows and new amenities.
Other improvements include new parking facilities, taxiways, and a vital link to the New York City Metro.
Beijing Daxing International Airport
Another new airport for 2019 is Daxing International, which also has ambitions to become the largest and busiest in the world.
It will feature one of the largest passenger terminals in the world which simultaneously reduces the amount of walk-time passengers need to undertake compared to similar hubs.
It will soon become home to China Eastern Airlines and China Southern Airlines, which will move from the existing Beijing Capital Airport.