Inside the frantic final sprint of the 2018 midterms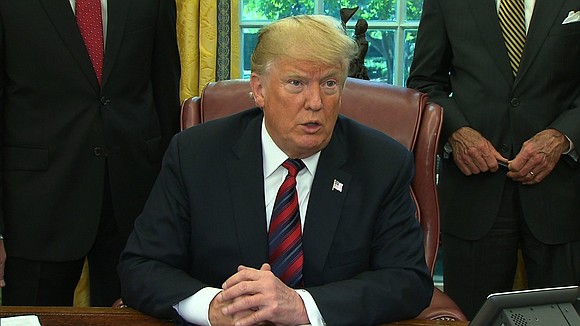 By Gregory Krieg, Eric Bradner and Dan Merica, CNN
(CNN) -- The Republican Party is all in on President Donald Trump. Now, with one week before the midterm elections, he's going all out for them.
Undeterred by the string of deadly horrors that might have paused another president in campaign mode, Trump is stumping relentlessly in a late push to save the GOP House and Senate majorities, using rallies and Twitter to stoke fear over a group of migrants nearly 1,000 miles from the US border while boosting false claims from Republican candidates about their efforts to tear up one of Obamacare's most popular features.
Trump will travel to Pittsburgh on Tuesday to show support for the community after a gunman killed 11 congregants at a synagogue in the deadliest anti-Semitic attack in US history. On Wednesday, he kicks off a swing of 11 rallies in six days.
Operatives in both parties and nonpartisan analysts have coalesced around a view that Republicans appear likely to benefit from a favorable map and keep control of the Senate, perhaps even padding their majority. But the GOP's grip on the House is slipping. After two years of unified Republican rule, the Democratic Party's base is rallying around a crop of first time candidates and now has a variety of potential paths to winning the 23 seats they need to regain a measure of control on Capitol Hill.
Trump has said that he shouldn't be blamed for a Republican midterm wipeout, but his travel schedule this week -- and the $22 million in transfers his re-election campaign has made to the Republican National Committee this cycle -- suggests he knows better. That even beyond pride, he has a lot to lose on Election Day. A "blue wave" on November 6 would immediately sink Trump's more ambitious political plans while exposing his administration to the kind of oversight Republican lawmakers have largely forsaken.
"I'm not on the ticket, but I am on the ticket because this is also a referendum about me," Trump said at a rally earlier this month in Mississippi. "I want you to vote. Pretend I'm on the ballot."
Republicans triage in House races
Democratic House candidates are entering the stretch run with momentum -- in the polls and the bank. Fundraising numbers, especially from small dollar donors, are through the roof. Grassroots liberal groups are organizing new and increasingly sophisticated mass voter drives. From the House to the governor's mansions in Florida and Georgia, offices held for a generation by Republicans are now considered either toss-ups or leaning in favor of Democratic challengers. GOP campaign arms are using the last few days before the election to shore up or rescue those old strongholds, while Democrats are pressing their advantage in places like Orange County, California, a series of suburban districts around Philadelphia, New York and New Jersey, and a trio of flippable Iowa congressional districts.
Outside Richmond in Virginia's 7th Congressional District, which Trump won by more than six percentage points in 2016, the Tea Party representative who ousted former House Republican majority leader Eric Cantor in a 2014 primary is now stuck in a dead heat with Democrat Abigail Spanberger. Rep. Dave Brat, who was on the short end of one the season's most viral moments when Spanberger lashed out at him at the end of a debate for misleading voters about her positions, has been outraised by the former CIA operative by a 2-to-1 margin.