Childish Gambino video features all-star (cartoon) cast, including Beyoncé, Drake and Outkast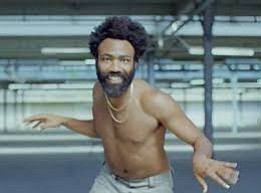 By Eliott C. McLaughlin, CNN
(CNN) -- Childish Gambino is back with another video that has folks talking, but rather than the political overtones that dominated "This Is America," the latest conversation revolves around a host of cartoon cameos.
"Feels Like Summer" is a laid-back R&B track with the hook, "You can feel it in the streets, on a day like this the heat, it feels like summer." It touches on some political points -- climate change, lack of water, dying bees -- but nothing as overt as "This Is America," which tackled police brutality, gun violence, media misdirection and the use of African-Americans as a brand shield.
The video opens with a cartoon version of Bino walking through a neighborhood as an all-star cast of entertainers enjoys the summer. Will Smith washes a car. Migos shoot hoops. Birdman grills burgers.
According to Genius, a website that features annotated rap lyrics, the video is meant to symbolize Childish Gambino leaving the hip-hop community.
Some of the appearances make sense: Kodak Black, who was arrested earlier this year for house arrest violations, can't come out to play with Lil Pump and Trippie Redd when they knock on his door. Other references are head scratchers: Why is Azealia Banks in a tree?
Fam Rothstein -- the music supervisor for the hit show, "Atlanta," created by Donald Glover, the name by which Childish Gambino was better known before his music career took off in 2011 -- credited the video's animation to Justin Richburg, whose artwork has appeared in "Atlanta."
"His mind is one of a kind and we worked hard on making this right," Rothstein said of Richburg in a tweet.
Here are some of the notable cameos in the video:
Kanye West and Michelle Obama
Yeezy appears in a Make America Great Again hat, no doubt a reference to him controversially championing President Donald Trump earlier this year. As West weeps, former first lady Michelle Obama appears from the darkness behind him and embraces him.
OutKast
The reference to Childish Gambino's fellow ATLiens, Big Boi and Andre 3000, isn't clear, but they're featured among other entertainers, including Michael Jackson and Whitney Houston, who are portrayed in their younger days.
Nicki Minaj and Travis Scott
The rappers are shown playing with blocks in a front yard. Scott plucks a block from the bottom of a structure Minaj is building, causing it to fall and angering Minaj. The two engaged in a feud last month when Minaj blamed Scott -- among other reasons -- for her album, "Queen," failing to reach No. 1. "Queen" debuted at No. 2 behind Scott's "Astroworld," which was released the week before.
Drake and Future
As Childish Gambino walks down the street, Future passes on a bicycle with Drake chasing him. As Future disappears into the distance, Drake shakes his fist at him before doubling over, hand on his knee in defeat. By all accounts, the rappers are pals. Future has toured with Drake and the pair has teamed up on a mixtape, as well as the singles, "Used To This" and "Jumpman."