New Season of "Pati's Mexican Table" Explores Border Region
Premieres this weekend on public television stations nationwide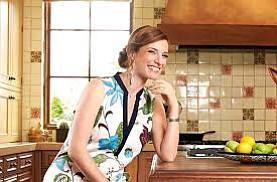 WASHINGTON, Sept. 4, 2018 /PRNewswire-PRWeb/ -- James Beard award-winner Pati Jinich takes us to a region largely shaped by the US-Mexico border in the new season "Pati's Mexican Table" airing on public television stations nationwide beginning this weekend. Local listings are searchable by zip code here.
An 800-mile road trip from the Tijuana border to the beaches of Cabo San Lucas is a personal rediscovery for Jinich as she explores the up-and-coming Baja California Peninsula. The region was sparsely populated when she visited as a child, now people from all over Mexico and the world call its two states, Baja Norte and Baja Sur, home.
The influx is bringing in young, talented chefs who are creating a new "Baja cuisine" influenced by Mexico's diverse regional cuisines, the peninsula's abundant seafood and indigenous ingredients, and its proximity to the U.S. The food is free spirited compared to other parts of Mexico with culinary traditions dating back to pre-Hispanic and colonial times.
Jinich's journey begins in Baja Norte where she dives deep to get the real story of what food and life are like on the border. She talks to millennial cooks who brought food truck culture to Tijuana, a hunter/fisherman and chef who is leading the "Baja Med" movement, and a Rosarito taqueria owner who once worked as a dishwasher in the U.S. and now has people traveling from California to eat his tacos.
"Every single story is one that inspires, one that speaks of resilience, courage, reinvention, adventure and building community through the food," Jinich said.
Driving south, Jinich stops in Ensenada, where two icons of Mexican and American cuisine were conceived — the fish taco and the margarita. She also learns about Baja's emerging wine industry in Valle de Guadalupe, home to over 100 wineries.
In the peninsula's southern state, Baja Sur, her culinary adventures are peppered with outdoor adventures along the region's breathtaking coastline. In the capital city, La Paz, she trades her apron for a wet suit to swim with whale sharks in the Sea of Cortez.
She continues her conversations about the shaping of Baja's cuisine with both established and rising chefs. She spends a day with "rock star" chef Javier Plascencia, cooks with a woman working to preserve culinary traditions, and discusses Cabo San Lucas' evolution from small fishing village to resort town on a fishing trip with an Argentinean chef who made Baja Sur his home.
"Filming in the Baja peninsula was the most fun we've ever had as a production team. It's an exciting place, alive with creativity, optimism and adventure and there's a raw energy that really drives every episode this season," said series director Dan Connell.
A Mexican immigrant who lives in America herself, Jinich shares some of her own experience at home. She brings us to the James Beard House in New York city, where she cooks a Cinco de Mayo dinner. While in the city, she visits Mexican-American chefs to hear their stories of building their lives in the U.S. through food.
Jinich's time exploring a region and cuisine in the making encourages her to be bolder in her kitchen using ingredients and techniques we haven't seen before on the show.
"I am just trying to do the region justice," Jinich remarked. "This experience has pushed me to be more daring."
In each episode, she gives us accessible Baja-inspired recipes that include fish and seafood dishes, street food favorites, and unexpected combinations. Her life as a Mexican mom raising three boys in the U.S. also informs her recipes. The season closes with an episode featuring her take on regional American classics for her three boys.
"Pati Jinich is bringing the joy of good food and local Mexican ambiance as only a native can. PBS viewers love Pati for a reason," said Dalton Delan, executive vice president and chief programming officer for WETA Washington, D.C. "She is the most scintillating travel culture host in television."
"Pati's Mexican Table" is a co-production of WETA Washington, D.C., Mexican Table LLC, FRANK. and Switchblade.
Past seasons are available for on-demand viewing through Amazon Video.
SOURCE MEXICAN TABLE, LLC