Why Nike is betting its slogan on Colin Kaepernick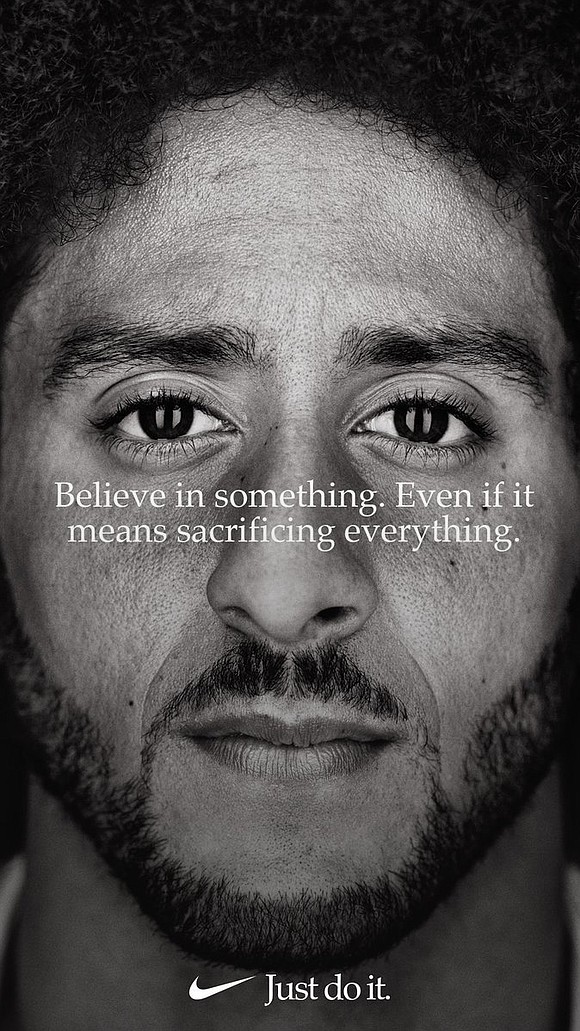 Nathaniel Meyersohn
(CNN Money) -- Nike is siding with Colin Kaepernick because he sells.
By making the quarterback a face of its 30th anniversary "Just Do It" campaign, the company believes it will earn support from its core customers: Young shoppers in big cities across the globe.
The company has calculated that Kaepernick's loyal following and popularity with star athletes will outlast boycotts and short-term stock pressure.
"Colin Kaepernick is cool now," said N.D.B. Connolly, a historian of race and politics at Johns Hopkins University. "It's a good way for Nike to venture out into a slightly edgier political arena and tap people who want to be part of a counterculture movement."
The company expected backlash from critics who resent the protest movement Kaepernick started in the NFL two years ago. And it arrived quickly after he posted the ad on Twitter on Monday.
"Believe in something. Even if it means sacrificing everything. #JustDoIt," he said.
The Nike campaign also promotes LeBron James, Serena Williams, NFL receiver Odell Beckham Jr. and Shaquem Griffin, a rookie linebacker for the Seattle Seahawks whose left hand was amputated when he was a child.
But everyone was talking about Kaepernick.
People started #BoycottNike and #JustBurnIt on social media. Some even posted pictures cutting their Nike socks and burning their Nike shoes. Texas Republican Senator Ted Cruz tweeted that Nike was "on the wrong side of the American people."
On Tuesday, Nike's stock was down as much as 3%, and some Wall Street analysts questioned the strategy.
Careful timing Nike has had an endorsement deal with Kaepernick since 2011. But it has not used him in ads since 2016, when he began raising awareness about police brutality and racial injustice by sitting and later kneeling during the national anthem.
Kaepernick has not played in the NFL since 2016. He is suing the league for allegedly conspiring to blacklist him because of the protests.
According to Yahoo Sports, it was only after rival sneaker companies showed interest that Nike put Kaepernick in ads.
Nike also signed Kaepernick to a new, multi-year deal, a source familiar with the negotiations told CNN. According to the source, the agreement with Kaepernick was a "top of the market deal for an NFL player."
So Nike's decision to elevate his profile was deliberate.
"Big corporations tend not to stick their necks out first, but follow where the smaller fish swim," Connolly said. "This is a pretty consistent example."
Following trends
Nike told shareholders in its latest annual filing that its success depends in part on its ability to "anticipate, gauge and react to changing consumer demands." And the company has been targeting younger, urban shoppers in recent years.
"Their core customer is a 14- to 22 year-old male," said Christopher Svezia, an analyst at Wedbush Securities. "Those are the sneakerheads."
Two-thirds of Nike sneaker customers are younger than 35, noted Matt Powell, a sports retail analyst at market research firm NPD Group. And those customers want brands to take stands on social issues, he said.