Hurricane Florence upgraded, on track to hit East Coast as major storm this week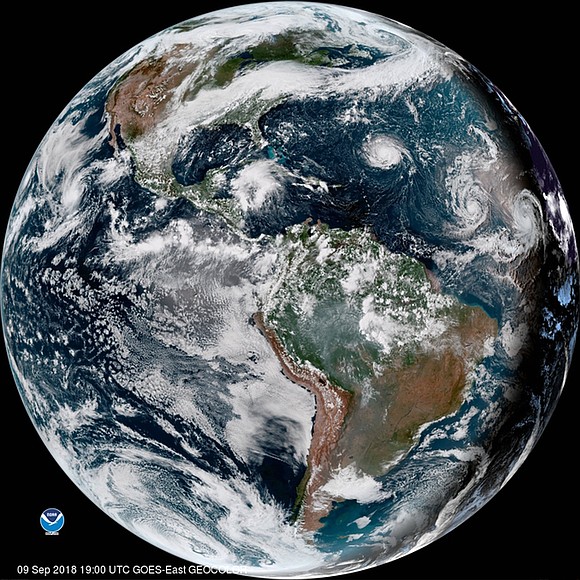 By Jay Croft, Paul P. Murphy and Kaylee Hartung, CNN
(CNN) -- Grocery stores are restocking shelves with water and bread, and supply stores are selling a lot of plywood and generators Monday as East Coast communities prepare for Hurricane Florence to strike hard later this week.
The National Weather Service at noon ET upgraded Florence to a Category 4 storm, meaning it is capable of creating "catastrophic" damage. Florence now has maximum sustained winds of 130 mph, the center said.
Further strengthening is expected, as Florence moves toward North and South Carolina, where it could unleash its fury as the most powerful storm to hit the region in three decades.
Tourists and residents were outside Sunday enjoying pleasant weather, but by Monday emergency management workers had been told to buckle up for what could be a very long week. "This storm gets stronger and stronger" and is on its way to a head-on impact on the Carolinas, CNN meteorologist Chad Myers said.
A mandatory evacuation order was issued for North Carolina's Hatteras Island starting at noon Monday, Dare County Emergency Management. said. The order extends to all residents and visitors in other areas of Dare County beginning at 7 a.m. on Tuesday.
The National Hurricane Center forecasts Florence to hit the shore late Thursday night or early Friday morning.
Swells up to 15 feet could batter the coast, Myers said, and the storm system is likely to stall when it crosses land, dumping up to 20 inches of rain on some inland locations.
Florence was about 575 miles southeast of Bermuda as of noon ET Monday, or about 1,230 miles from Cape Fear, North Carolina. The storm was moving west at 13 mph, the hurricane center said.
The center of the hurricane was forecast to move between Bermuda and the Bahamas on Tuesday and Wednesday and approach the US coast on Thursday as a Category 3 storm or higher, according to the hurricane center.
"There is an increasing risk of life-threatening impacts from Florence: storm surge at the coast, freshwater flooding from a prolonged and exceptionally heavy rainfall event inland, and damaging hurricane-force winds," the hurricane center said. It warned people at the coast and inland from South Carolina to the mid-Atlantic region to monitor the storm's progress closely and ensure they have a hurricane plan in place.
Large swells generated by Florence are already affecting Bermuda and portions of the East Coast and will continue this week. "These swells are likely to cause life-threatening surf and rip currents," the hurricane center said.
Track the storm and compare different forecast models
The governors of Virginia, North Carolina and South Carolina have declared states of emergency.
"We are preparing for the worst, and of course hoping for the best," South Carolina Gov. Henry McMaster said, adding that his declaration would allow state agencies to deploy assets quickly to the coast. The state has begun enforcing a law against price gouging.
McMaster and North Carolina Gov. Roy Cooper have asked President Donald Trump for a federal disaster declaration. That would make state and local agencies eligible for Federal Emergency Management Agency reimbursement of some costs.