Clear Bag Policy in Effect for OTR II
Jay-Z and Beyoncé - OTR II Tour on September 15 & 16, 2018, NRG Stadium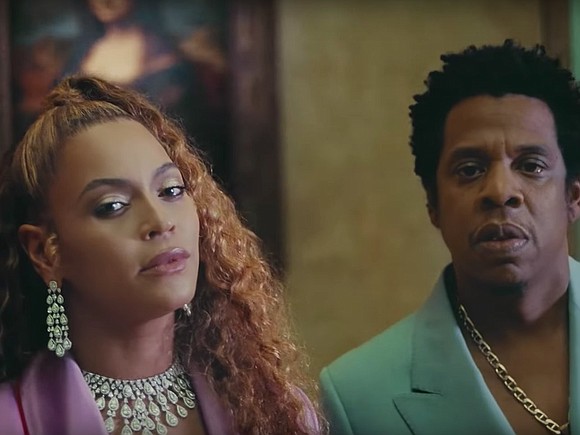 Houston, TX- Clear Bag Policy will be in effect for Jay-Z and Beyoncé - OTR II Tour and Taylor Swift-reputation Stadium Tour at NRG Stadium. Jay-Z and Beyoncé will perform in NRG Stadium for two nights, September 15-16, 2018. Taylor Swift will follow with her reputation Tour, on September 29, 2018.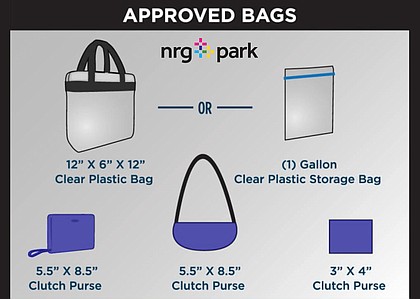 NRG Stadium strongly encourages fans not to bring any bags, however, the following will be permitted:
Each fan may carry one bag that is clear plastic, vinyl, or PVC no larger than 12" by x 6" x 12" or a one-gallon clear plastic freezer bag (Ziploc bag or similar).

Fans may carry in a small clutch purse no larger than 4.5" x 6.5", approximately the size of a hand, with or without a handle or strap. These small clutches are subject to search.

Each ticket holder, including children, will be able to carry an approved clear bag and a clutch purse.

Diapers and wipes may be carried in a clear bag, however, diaper bags are not permitted.

Small cameras and cell phones are permitted if carried in loosely or in an approved clear bag. Non professional cameras with non-removable lenses may be carried inside the stadium as long as the lens is less than three inches in length.

Small clutch bags, approximately the size of a hand, with or without a handle or strap can be taken into the stadium with one of the clear plastic bags.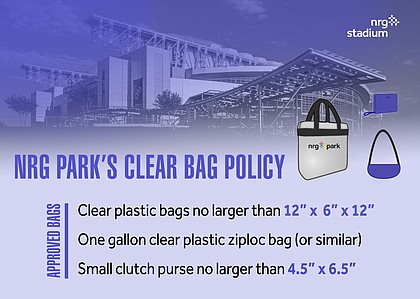 Fans will be asked to either return prohibited items to parked vehicle, if they have not entered the NRG Stadium, or dispose of prohibited items at the gate. Fans carrying non-approved bags will be turned away from the NRG Stadium before arriving at the Access Control Points. Complimentary, disposable, clear plastic freezer bags will be available at the Access Control Points to afford guests the opportunity to transfer belongings to an approved bag before approaching the NRG Stadium.
For more information about the policy visit http://www.nrgpark.com/clear-bag-policy