Mercury Chamber Orchestra showcases brilliance of Brahms and Mendelssohn in October 6 concert juxtaposing composers' Third Symphonies
Concert marks orchestra's return to the Wortham Center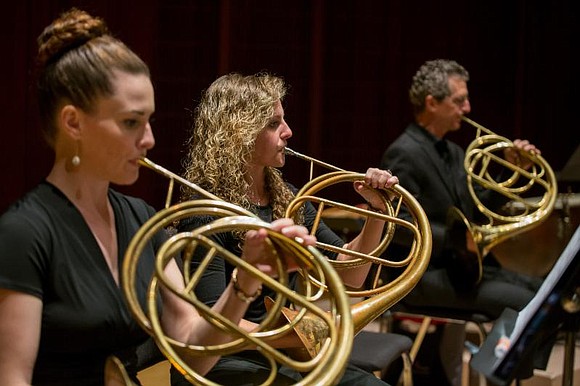 HOUSTON, TX - More than music can be heard on Mercury Chamber Orchestra's October 6, 2018 concert as it returns to its longtime downtown home, the Wortham Center's Cullen Theater. Under the direction of co-founder and Artistic Director Antoine Plante, Mercury offers an enticing program of music that is not only bright and bold, dramatic and melancholy, but also aurally authentic of the time the works were composed.
With its unique, trademark style - the orchestra stands rather than sits to perform, and historically accurate instruments (not only from the Baroque era, but to the original performances), Mercury Chamber Orchestra offers an enticing perspective on the moving, compelling third symphonies of Johannes Brahms and Felix Mendelssohn. Audiences will enjoy a sound authentic to the era, from the brass horns, which unlike modern horns, have no valves, to the all-wood woodwinds, and the string instruments, with their lighter, lyrical sound from strings made of animal gut rather than modern nylon or metal.
Mendelssohn's Symphony No. 3 in A minor draws on the composer's ruminations of the Scottish landscape from his visit to the country 13 years earlier. Its joyful Scherzo is derived from Scottish folk music. Mercury juxtaposes the dream-like lyrical and contemplative themes of the work with Brahms' multifaceted and bold Symphony No. 3 in F major, completed in the summer of 1883 when the 50-year-old composer was at his zenith. From the first movement's dramatic opening, with its three-note motive for the horns: F-A flat-F ('Frei aber froh', 'Free but happy') to the melancholy theme of the third, and the dark, tempestuous fourth movement, audiences are sure to hear why the piece was an instant success at its premiere.
MERCURY CHAMBER ORCHESTRA
Brahms' Third Symphony
Saturday, October 6 at 8 PM
WORTHAM CENTER, DOWNTOWN
FELIX MENDELSSOHN
Symphony No. 3 in A minor, Op. 56, "Scottish"
JOHANNES BRAHMS
Symphony No. 3 in F major, Op. 90
Antoine Plante, Conductor
This concert is made possible in part by the Houston Endowment and the City of Houston through Houston Arts Alliance.