Donald Trump's hurricane tweets show he can always go lower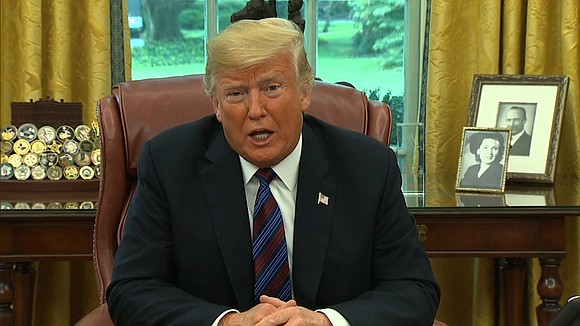 That line of "thought" confirms a lot we already know about Trump:
1) He is paranoid and often believes everyone who is not his staunchest ally is secretly plotting to "get" him.
2) He views everything through the lens of politics and party. Because Rosselló or San Juan Mayor Carmen Yulín Cruz, who has criticized Trump's response, are Democrats, they must be willing to do whatever it takes to make the President look bad.
3) He makes everything -- including natural disasters -- about him.
That last point that, I think, is the most remarkable and frightening. To believe what Trump apparently does about the death toll from Hurricane Maria, you have to also believe that the governor of Puerto Rico commissioned a study from an independent group with the express purpose of embarrassing Trump. And that a respected center at George Washington University lied about their estimates of how many people died due to Maria solely to make Trump look bad.
That's an extraordinary level of narcissism. To exhibit that level of self-focus even as a handful of states are bracing for the potential of a disastrous weather event over the next 24-48 hours speaks to how all-consuming that narcissism is.
Prominent Florida Republicans -- including Gov. Rick Scott and Sen. Marco Rubio -- sent tweets making clear they disagreed with Trump's allegations regarding the Puerto Rico death toll.
Not only did Trump think that the Puerto Rican government is unfairly laying thousands of deaths on him -- and even making up many of those deaths -- he felt strongly enough that he tweeted that idea to 54 million people amid an onrushing natural disaster that is already being felt on the North and South Carolina coasts.
It's absolutely staggering stuff. And what's even more appalling is that Trump allies will try to dismiss the criticism of his remarks as nothing more than a confirmation of Democrats' ill intent and the rabid anti-Trump bias of the news media.
Which, of course, it isn't. This is about the loss of human life and a President too obsessed with his own image and his own political considerations to understand that. Or to grasp how picking a fight about the death toll in the last major hurricane even as the next major hurricane begins to batter the United States is the definition of counter-productivity -- not to mention political insanity.
There is no rock bottom. There is no lowest point. The depths just always go deeper.