Booker, Harris Emulate Obama, Clinton Using Senate Hearing As Presidential Launchpad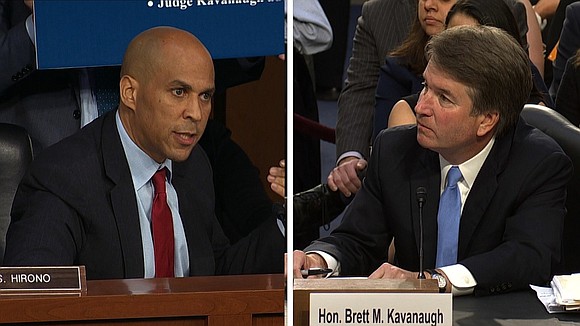 By Eric Bradner and Stephen Collinson, CNN/StyleMagazine.com Newswire
Eleven years after Barack Obama and Hillary Clinton used Senate hearings as an anti-Iraq war launchpad for their presidential ambitions, two Democratic senators are similarly seizing on the Supreme Court battle to play to the gallery of 2020 primary voters.
Brett Kavanaugh's confirmation hearing has given California Sen. Kamala Harris and New Jersey Sen. Cory Booker an opportunity to show the Democratic base they can put up a fight against President Donald Trump while the national television cameras are running.
The two have seized the moment, upending the conversation around the hearing with exchanges that demonstrated qualities at the core of their political appeal: Booker, a willingness to break norms to stand for his principles, and Harris, a long-time prosecutor's ability to undermine a cagey witness.
It comes in one of the last major Senate fights before major Democratic 2020 presidential candidates are expected to launch their campaigns after November's midterm elections.
Republicans have complained that Harris and Booker are posturing with 2020 in mind. They pointed to emails each sent to supporters this week asking for signatures opposing Kavanaugh -- a common tactic to build email lists that can later be used for fundraising and organizing. Their moves infuriated Republicans who accused both of deception, saying Booker and Harris used misleading tactics to score political points.
Republican National Committee Chairwoman Ronna McDaniel tweeted that Booker was "using his crocodile tears as a ploy to raise money. It's pathetic." Texas Republican Sen. John Cornyn said that "it is all about the 2020 Democrat presidential primary."
Yet the aggressive tactics of Booker and Harris were praised by progressives and Democratic strategists who have long complained that Senate Democrats weren't doing enough to slow or stymie Trump's judicial nominees.
"No more butter knives to a gunfight," former Hillary Clinton 2016 campaign aide Brian Fallon tweeted of other Democrats on the Judiciary Committee saying they backed a Booker move on Thursday morning.
Booker: 'Bring it'
Progressives demanded a fight against Kavanaugh, and Booker arrived Thursday morning ready to deliver.
Booker released 12 pages of Kavanaugh emails on the topic of racial inequality after complaining that too many documents had been deemed "committee confidential" and shielded from the public eye as the Senate. What he didn't say at the time was that the committee had cleared those documents in the wee hours that morning.
But there was a show.
Cornyn told Booker the punishment under Senate rules for releasing "committee confidential" documents was expulsion from the chamber.
Booker responded by challenging majority Republicans to kick him out.
"Bring it," Booker said. "Then apply the rule and bring the charges. Bring it."
Booker called it "the closest I'll probably ever have in my life to an 'I am Spartacus' moment." And his Democratic colleagues on the Judiciary Committee backed his move.
"Let's jump in this pit together," said the Senate's No. 2-ranking Democrat, Dick Durbin of Illinois.
"Count me in, too," said Hawaii Sen. Mazie Hirono.