Florence leaves 'a monumental disaster' in the Carolinas -- with more trouble to come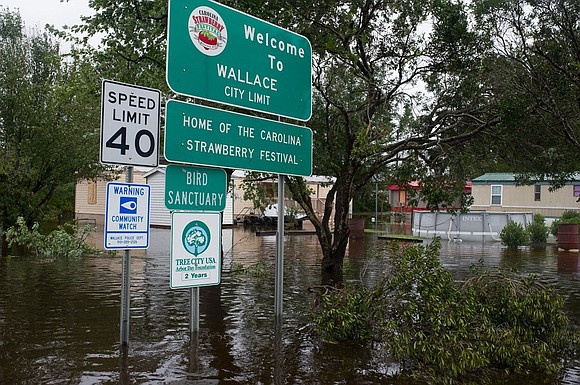 By Holly Yan, Susannah Cullinane and Cassie Spodak, CNN
(CNN) -- Even as Florence leaves the Carolinas, the floodwater and death toll keep rising.
The storm once known as Hurricane Florence has already killed 20 people, trapped hundreds more and made parts of the Carolinas impassable. But forecasters say the worst flooding is yet to come.
"This is a monumental disaster for our state," North Carolina Gov. Roy Cooper said Monday. "This is an epic storm that is still continuing because the rivers are still rising."
Residential streets have turned into rivers. Parts of freeways -- dotted with rescue boats -- have morphed into free-flowing waterways.
And the remnants of Florence, now a tropical depression, will likely dump another 2 to 5 inches of rain Monday on central and southeastern North Carolina, CNN meteorologist Michael Guy said.
But even when the rain lets up, don't be fooled. The big concern now is river water gushing downstream, further deluging already flooded cities.
"Catastrophic and historic river flooding will continue for days across portions of the Carolinas," the National Weather Service said.
Now there are fears the death toll will keep climbing. Authorities reported two more deaths on Monday, both in North Carolina.
The body of an elderly man was found by his submerged car Monday morning, the Union County Sheriff's Office said.
And 1-year-old Kaiden Lee-Welch, who was swept away by rushing waters Sunday, was found dead Monday, also in Union County.
Houses turn into islands in the Carolinas
The flooding is so bad in North Carolina that the state's transportation department warned people not to travel in or through the state. Some interstates, including sections of I-95 and I-40, are closed.
Emergency workers have made at least 1,000 swift-water rescues in North Carolina by early Monday, the North Carolina Department of Public Safety said. But many more people need help.
Those trapped in floodwater could also be without power for days.
About 488,551 customers in North Carolina and 16,385 in South Carolina don't have electricity. But the number of actual people without power is far greater, since a single customer can represent an entire family.
Wilmington is still cut off to residents
The coastal North Carolina city of Wilmington, population 117,000, is so deeply submerged that no one could get in Sunday.
By Monday, authorities were able to open one road into the city. But it's not for residents to use to return.
"We do not want evacuees to go back. There's too much going on," Cooper said.
The state's Department of Transportation said it's not clear how long that road will stay open, so authorities are trying to bring in as many supplies as possible.
"We are pushing supplies as hard as we possibly can with the plan that (the road) may not sustain us over the next week," DOT Secretary James Trogdon said.
And supplies such as fuel are in critical need.
The Wilmington-based Cape Fear Public Utility Authority urged residents to fill bathtubs and containers with water in case it doesn't have enough fuel to keep its water treatment plants running.