Household disinfectants could be making kids overweight, study says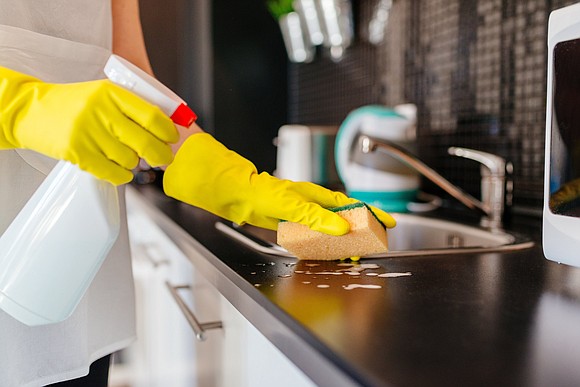 By Susan Scutti, CNN
(CNN) -- Multi-surface cleaners and other commonly used household disinfectants could be making children overweight by altering the bacteria found in their guts, a new study published Monday in the Canadian Medical Association Journal suggests.
Infants living in households where antimicrobial disinfectants are used at least weekly were twice as likely to have higher levels of the bacteria Lachnospiraceae at ages 3 to 4 months than children whose homes did not frequently use disinfectants, the Canadian researchers found. When those children with higher levels of Lachnospiraceae were 3 years old, their body mass index (BMI) was higher than children who do not live in homes that frequently use disinfectants, the study also showed.
The bacteria Lachnospiraceae are "a normal component of our gut microbiota," Anita Kozyrskyj, senior author of the study and a University of Alberta pediatrics professor, said in a CMAJ podcast.
However, she explained that it is known "from animal studies that higher levels of Lachnospiraceae have been associated with higher body fat and insulin resistance."
'Culprit' linking disinfectant use and weight
The new report uses data from the Canadian Healthy Infant Longitudinal Development study, which began in 2009 with researchers actively following participants as they grow and develop, from mid-pregnancy into childhood and adolescence.
When infants were 3 or 4 months old, their parents provided a poop sample for each infant and answered questions about their home, explained Kozyrskyj. Samples from 757 infants were profiled and analyzed along with BMI data at older ages and parental use of disinfectant products.
One of the study's findings is that roughly 80% of Canadian households use disinfectant products, most often multi-surface cleaners, at least once weekly, said Kozyrskyj.
While the researchers found an increase in Lachnospiraceae bacteria with more frequent cleaning with disinfectants, they did not see the same association with washing detergents without the bacteria-killing ingredients found in disinfectants or eco-friendly cleaners.
"These results suggest that gut microbiota were the culprit in the association between disinfectant use and the overweight," said Kozyrskyj.
Gut microbiota refers to the community of bacteria that live harmoniously together in our digestive tract, explained Kozyrskyj. This community develops during infancy when we gain a larger number of bacterial species, with each species decreasing or increasing in number over time.
"We each possess a unique gut microbiota but there are common patterns, there are common microbes that are expected to be found in childhood and in adulthood," said Kozyrskyj. "I would say around 3 years of age we have a bacterial composition that we can call our own. And it stays with us for the remainder of our life."
This is important because past research has drawn a connection between gut microbiota composition and weight in adulthood.
Spotting risk factors for obesity
Though the study results highlight the connection between disinfectants and the gut microbiota, Kozyrskyj noted that "it still is a big leap to use the word causation."
That said, some of the evidence clearly points to a direct cause-effect relationship between disinfectants and higher levels of the common gut bacteria, she said. For example, animal studies have found similar changes in the gut bacteria of piglets when exposed to disinfectants, she said.