Trump doesn't think the FBI should get involved in Kavanaugh allegation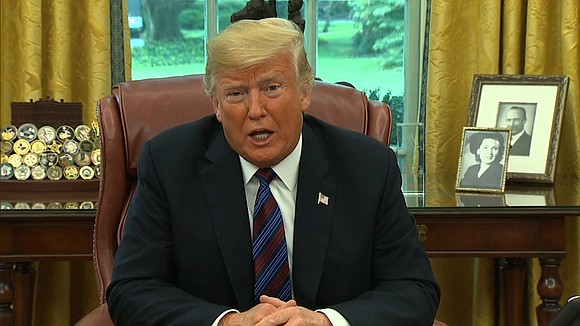 By Jeremy Diamond, CNN
(CNN) -- President Donald Trump said Tuesday he does not believe the FBI should delve any further into the decades-old sexual assault allegation leveled against Supreme Court nominee Brett Kavanaugh, claiming the FBI does not want to be involved.
"I don't think the FBI really should be involved because they don't want to be involved," Trump said, though he then held open the possibility of the FBI involving itself in the matter. "If they wanted to be, I would certainly do that. But as you know, they say this is not really their thing."
Trump's comments came as Senate Democrats ramped up calls for the White House to direct the FBI to reopen Kavanaugh's background investigation before any hearings on the allegation of sexual assault leveled over the weekend against the Supreme Court nominated judge can proceed.
The Senate Judiciary Committee has invited both Kavanaugh and Christine Blasey Ford, his accuser, to testify before the committee on Monday.
Democrats on the committee, in a letter to White House counsel Don McGahn and FBI Director Chris Wray, stressed the need for the FBI "to perform its due diligence" and reopen its background investigation into Kavanaugh before any hearings take place.
"The Committee should have the completed report before any hearing occurs and we ask that you take immediate steps to make sure that we have the FBI's report before we proceed. Please notify us as soon as possible whether this can be completed in time," Senate Democrats wrote in the letter.
Trump said Kavanaugh "is anxious" to testify and cast doubt on Ford's willingness to testify.
"Judge Kavanaugh is anxious to do this. I don't know about the other party. But Judge Kavanaugh is anxious to do it," Trump said. "We want everybody to be able to speak up and to speak out."
The President also once again lamented Sen. Dianne Feinstein, the top Democrat on the Senate Judiciary Committee, over her handling of the allegation against Kavanaugh, which she only disclosed last week despite first getting word of the allegation in July.
"This should have been done a long time ago and when Sen. Feinstein had Judge Kavanaugh in her office for a long time, she never even mentioned this," Trump said.
Ford did not tie her name to the allegation until this past weekend after previously disclosing the allegation anonymously to Democratic lawmakers.