After a wrenching day, Judiciary Committee to vote on Kavanaugh at 1:30 p.m. ET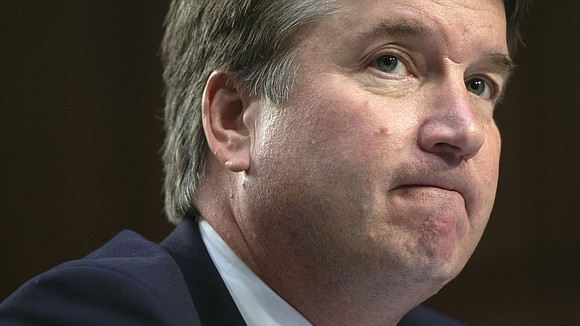 By Eric Bradner and Phil Mattingly, CNN
(CNN) -- The Senate Judiciary Committee is once again the scene of a national drama Friday as its members prepare to vote on President Donald Trump's embattled Supreme Court nominee Brett Kavanaugh.
Senate Republican leaders appear to have 49 solid yes votes, one shy of the 50 they need to confirm Kavanaugh -- meaning they could lose one Republican and have Vice President Mike Pence break a potential tie -- so they're going to gamble with a damaged nominee who is viscerally opposed by Democrats.
Friday morning, Sen. Jeff Flake, R-Arizona, presumed to be the swing vote on the committee, said he would back Kavanaugh.
Two Republicans -- Sens. Susan Collins of Maine and Lisa Murkowski of Alaska -- and two Democrats in red states -- Sens. Joe Manchin of West Virginia and Heidi Heitkamp of North Dakota -- now essentially hold the future of Kavanaugh's nomination in their hands. A third undecided Democrat, Sen. Joe Donnelly of Indiana, announced his opposition to Kavanaugh late Friday morning. Donnelly was one of three Democratic senators who voted for Trump's first Supreme Court nominee Neil Gorsuch.
Flake confronted by two female protesters after announcing he'll back Kavanaugh
The Judiciary Committee vote is set for 1:30 p.m. ET. The panel has 11 Republicans and 10 Democrats.
Friday's vote follows a wrenching, partisan hearing Thursday where Christine Blasey Ford detailed her sexual assault allegations against Kavanaugh and he vehemently denied them. It sets into motion days of high drama on Capitol Hill, with the prospect of a conservative Supreme Court for a generation in the balance.
The committee action will be the first step in a series of votes to determine whether conservatives lock in a 5-4 majority on the court. After the committee votes, the GOP's current plan is to hold a procedural vote on the Senate floor midday Saturday and hold the final vote early next week.
Shortly after the vote time was set by committee Republicans on Friday in a meeting that started at 9:30 a.m. and Judiciary Chairman Chuck Grassley began reading a statement praising Kavanaugh, California Sen. Kamala Harris led several Democrats in walking out of the hearing room. She was joined by Connecticut's Richard Blumenthal, Hawaii's Mazie Hirono, Rhode Island's Sheldon Whitehouse, and later, Vermont Sen. Patrick Leahy.
"From top to bottom this has been about bullies," Harris told reporters outside the committee room. "Dr. Ford came in and she poured out her heart. She cooperated with the process. She gave the process dignity and respect. The least we could do is give her the dignity and respect of a process that has credibility."
"I'm not going to participate in this charade anymore," Hirono said.
Republicans responded angrily, saying they believed Kavanaugh's denial of Ford's allegation.
"I'm a single white male from South Carolina, and I'm told I should just shut up, but I will not shut up," Sen. Lindsey Graham, R-South Carolina, said Friday.