Celebrating 25 Years, ESSENCE Festival Transforms into Platform Advancing Global Black Culture, Economic Ownership & Inclusion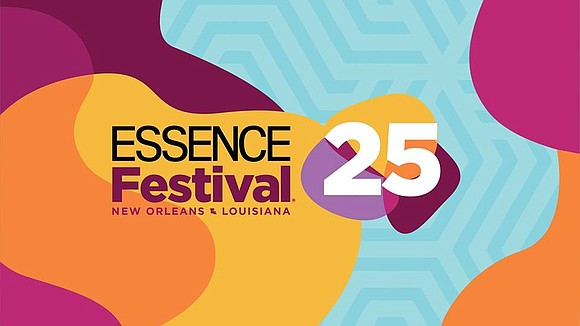 The ESSENCE Festival® presented by Coca-Cola, the world's largest cultural, entertainment and empowerment experience, is marking its 25th anniversary July 4-7, 2019 in New Orleans, LA. The Festival, the only experience of its kind, is also the largest celebration of global Black culture and continues to reach new heights with a focus on economic inclusion, cultural ownership and community development. Now attracting more than 500,000 attendees each weekend, the ESSENCE Festival surpasses every national music, entertainment, and cultural festival based on average daily attendance and is planning its most extensive programming to date.
With a daily line-up of diverse, can't-miss enrichment and entertainment programming, the Ernest N. Morial Convention Center will be a safe space where hundreds of thousands of multigenerational attendees gather to be informed, inspired and empowered. Offering new and elevated experiences, each activation will serve the unmet needs of Black women across the globe and bring the pages of the magazine and online content to life as never before across arts, entertainment, music, beauty, fashion, technology, film, food, wellness, advocacy, entrepreneurship and economic empowerment.
"For 25 years, the ESSENCE Festival has embodied the power and purpose of our culture – bringing a total of more than $4 billion in economic impact to the City of New Orleans and state of Louisiana and most importantly, serving as a sacred ground for millions of Black women to engage each other in community, sisterhood, service, family, love, laughter, joy, hope, and empowerment," said Michelle Ebanks, CEO of ESSENCE Communications. "Today, the Festival is a full celebration of that culture – what we have achieved, how we honor each other, and where we're going from here. For us, as a 100% Black-owned company, that includes building from the Festival's foundation of music, entertainment, and empowerment to also now reclaiming our economics and facilitating more opportunities for ownership of and in the culture that we create, innovate and evolve."
Ebanks continued, "ESSENCE is home, and we know that home is where the heart is. It is where we go to be restored and sustained. No matter where we travel in the world, there's no place like it. So, the ESSENCE Festival is also a much-anticipated homecoming for Black artists to be uplifted and replenished, for our brightest minds to convene around solutions to critical issues impacting our communities, and for our most creative, bold and passionate selves to be celebrated and renewed. ESSENCE is that place, and today we say "Welcome home."
In addition to an epic 'homecoming' musical line-up of more than 80 performers at the Louisiana Superdome – including Mary J. Blige, Nas, Missy Elliott, H.E.R., Big Freedia, Davido, Frankie Beverly, Jermaine Dupri, MC Lyte, Pharrell Williams, Ronnie, Bobby, Ricky & Mike (RBRM), Sheila E., Teddy Riley, Teyana Taylor, Timbaland, and more – a 25th anniversary celebration of 1994's most culturally impactful and transformative albums that redefined pop culture will be curated and performed by the original artists. These include Mary J. Blige's My Life, Nas' Illmatic, Brandy's Brandy, Method Man's Tical, Scarface's Diary, Big Daddy Kane's Daddy's Home, Da Brat's Funkdafied, Slick Rick's Behind Bars and Brownstone's From the Bottom Up.