The Impact of Domestic Violence on Youth Explored at AVDA's End Abuse 2019 Awareness Breakfast
Dr. Jeff Temple delivers keynote address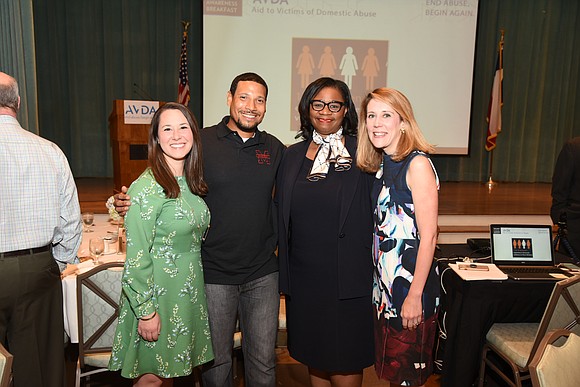 HOUSTON, TX (April 18, 2019) More than 300 guests attended AVDA's (Aid to Victims of Domestic Abuse) End Abuse 2019 Awareness Breakfast on April 17, at the Junior League. Now in its third year, the Awareness Breakfast has become so popular that it was at capacity well in advance of the event.
Carter Dugan, Lisa Modica and Rachel Roosth co-chaired this year's End Abuse Awareness Breakfast, themed "An Hour Can Save a Lifetime." Building awareness of the prevalence of domestic violence in our community is at the heart of AVDA's mission to end family violence.
Acting as emcee, KPRC-TV's Khambrel Marshall welcomed the audience, who despite the early hour of the day, showed enthusiasm for the topic at hand, "Prevention of Teen Dating Violence and the Impact of Domestic Violence on Youth." Dr. Jeff Temple, Director of Behavioral Health and Research in the Department of Obstetrics/Gynecology at the University of Texas Medical Branch, delivered the keynote address.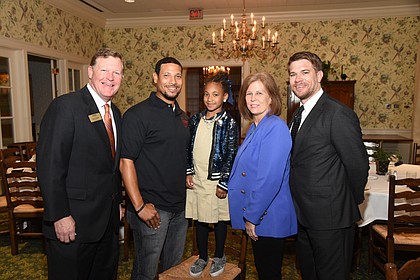 Dr. Temple began, "When you were growing up, how many of you all were taught how to be in a relationship? I want a show of hands. So no one, right? Which is amazing when you think about it. Our relationships are the most important things we do in our entire lives…They are the foundation. We are taught everything else, but how to be in a healthy relationship."
He went on to talk about the role of media and video games in shaping teens' views on relationships and that teen dating violence is composed of psychological, physical and sexual abuse. Cyber abuse, which in and of itself is not a distinct form of abuse, is a vehicle to deliver psychological abuse. He also touched upon the impact of domestic violence on children with the "consequences of witnessing domestic violence being severe" with violence begetting violence.
He pointed out the work that AVDA and Texas Council on Family Violence (TCFV) are doing on behalf of victims of domestic violence, stating "these organizations are leaders in the country with AVDA leading cities and TCFV leading states."
AVDA Board Chair Steve Winter and CEO Sherri Kendall also spoke from the podium. Former AVDA client Jonovan Robinson shared how AVDA changed his life six years ago, giving him the chance to begin again.
In the audience were Harris County District Attorney Kim Ogg, Houston Police Chief Art Acevedo, Constable Alan Rosen and TCFV CEO Gloria Terry.
Corporate sponsors for the End Abuse 2019 Awareness Breakfast were Halliburton and Norton Rose Fulbright. For more information on AVDA, visit www.avda.org