Prairie View A&M Student with Brain Cyst Struggles to Finish Semester, While Mother Races Time to Sell Hoodies to Fund Upcoming Surgery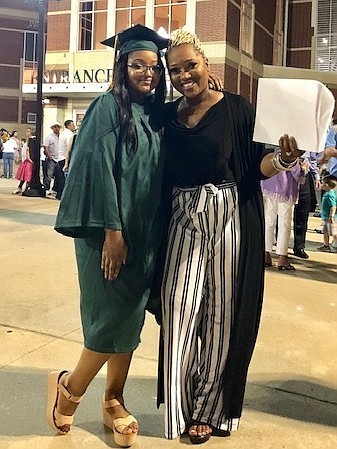 CYPRESS, TX– April 26, 2019: DyAnna Tucker and her mother, Rosemary Tucker, are racing time to accomplish two important missions. DyAnna Tucker, a first-year nursing student at Prairie View A&M University in Texas, is struggling to complete her second semester of classes with a brain cyst that is causing seizures, blurred vision and massive headaches, while her mother, Rosemary Tucker, is trying to raise more than $60,000 by selling inspirational hoodies and crowd-funding to pay for her daughter's upcoming brain surgery.
On December 26, 2018, after misdiagnoses from two doctors, DyAnna Tucker was rushed to the emergency room with a debilitating headache and the inability to move the right side of her body. Some 10 hours later doctors discovered a pineal gland cyst, about the size of a marble, right in the center of her brain.
While most people with this type of cyst may never show symptoms, in rare cases like DyAnna's, the cyst is causing severe headaches, vision problems, muscle spasms, and just this week, seizures, for the 19-year-old student.
The doctors informed Rosemary her daughter would need to have surgery to remove the cyst in order to avoid life-threatening complications and the buildup of spinal fluid within her brain. With an average post-surgery recovery time of six weeks, they scheduled the surgery for May 29, 2019, at Memorial Hermann Hospital, to allow DyAnna time to finish her second semester of classes at Prairie View.

Despite the blurred vision, headaches and loss of her ability to drive, DyAnna has been determined to attend her classes every day until surgery. With her symptoms are now worsening, and she may not be able to wait until the scheduled surgery date.
The cost for DyAnna's surgery and medical expenses is in excess of $60,000. She doesn't have health insurance, and her family does not have the means to pay for it. DyAnna's mother, Rosemary, launched a Hoodies for Healing fundraising campaign to sell a line of positive affirmation "I Am Healed" Hoodies and merchandise in hopes it will help pay for the life-saving surgery.
"My biggest fear is that I won't be able to come up with the money for the surgery," said Rosemary Tucker. "DyAnna's dream is to become a nurse and we've been helping her achieve that dream by trying to pay for her college out-of-pocket. We never saw this coming and I have exhausted all other financing options. I didn't want to just ask people for money, so I created Hoodies For Healing, as a last resort. We've sold over 700, but have a long way to go, and DyAnna is getting worse. I don't know if we're going to be able to make it until May 29th."
So far, Rosemary has sold over 750 hoodies, raising about $18,750, and she is determined to sell over 2,000 more to reach the $60,000 needed for DyAnna's medical expenses.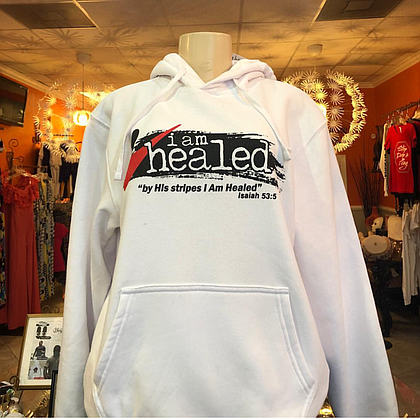 Rosemary owns a Christian apparel boutique called Blessties in Cypress, Texas, and is selling the "I Am Healed" Hoodies in red, white and black for $25, along with T-shirts, aprons, candles, beanies and wristbands ($5-$19), at her shop (18039 FM 529 Rd. Suite D, Cypress, TX) and online at https://blesstiesusa.com to try and raise the money for DyAnna's surgery before May 29.

Friends have set up a GoFundMe page for donations and have raised an additional $8,748 to try and help support Rosemary and DyAnna.

With a little over a month until the surgery, the Cypress, Texas mother and daughter are relying on their faith to get them through the next 30 days and achieve their goals.
"I would give up everything I have to see my daughter healed," said Rosemary Tucker. "There is nothing more heartbreaking for a Mom, then seeing your child in pain and not being able to make them better. We are so grateful for the love and support we've been receiving, and hope others share our story and send their prayers."
Rosemary said the community's support has been overwhelming and she is already working on ways to pay it forward. After DyAnna's surgery, the campaign will be used to help others battling chronic illness.
Rosemary is hopeful sales of the "I Am Healed" products will pick up enough to cover as much of the cost of DyAnna's surgery as possible in the next 30 days. All of the proceeds from the sale of the Hoodies for Healing merchandise go directly to her daughter's medical expenses.
For media inquiries and more information please contact Sherrie Handrinos at SherrieHandrinos@gmail.com or call 734-341-6859.