2019 Theta Charity Antiques Show Returns to Houston for Grand Finale in November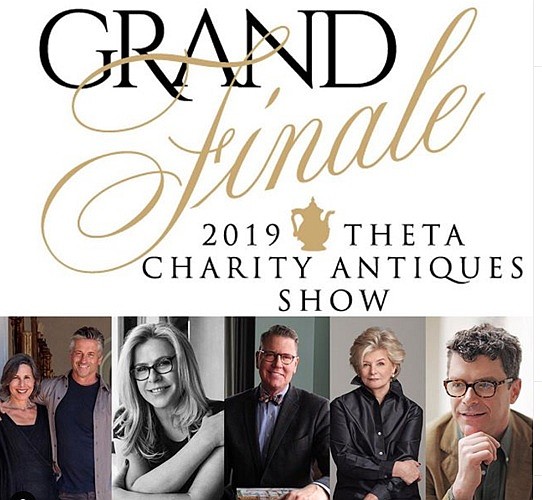 HOUSTON, TX — From November 21 to 24, 2019, the Houston Alumnae Chapter of Kappa Alpha Theta will host the 2019 Theta Charity Antiques Showat the George R. Brown Convention Center. Bringing together top exhibitors, designers, collectors, and admirers of fine arts and décor from around the nation, the 2019 Show will be presented by co-chairs Courtney Hill Fertitta, Jennifer Donovan O'Donnell, and Giggy Martin Thanheiser. All-inclusive general admission tickets are on sale now.
This year's weekend-long event will be the Theta Charity Antiques Show's grand finale—a celebration of the countless exhibitors, speakers, volunteers, and patrons who have made the Show possible for nearly 7 decades. Since its inception in 1952, exhibitors have shared exquisite treasures, attendees have been enlightened by experts in art, design, and antiques, and nearly $8 million has been raised for deserving local charities.
An exciting line-up of speakers will include nationally-renowned design experts Steve and Brooke Giannetti, Alexa Hampton, Thomas Jayne, Charlotte Moss, Thomas O'Brien, and Margot Shaw. Funds raised from the Theta Charity Antiques Show will support the Show's four permanent beneficiaries: Bayou Bend Collection and Gardens/The Museum of Fine Arts, Houston; Child Advocates; Kappa Alpha Theta Foundation; and Texas Children's Cancer & Hematology Center. Additionally, seven deserving local charities have been selected to receive philanthropic support from the 2019 Show: Amazing Place; Bo's Place; Camp for All; Holly Hall; Nick Finnegan Counseling Center; The Rise School; and The Rose.
More information about the 2019 Show, including a detailed schedule of events, will be announced this fall.
WHEN
Thursday, November 21, 2019
7 p.m. Preview Party
Friday, November 22 and Saturday, November 23, 2019
10 a.m. Doors Open
6 p.m. Doors Close
Sunday, November 24, 2019
12 p.m. Doors Open
6 p.m. Doors Close
WHERE:
The George R. Brown Convention Center, Hall A
1001 Avenida de las Americas
Houston, TX 77001
COST:

General admission tickets are $25 each and include access to all speaker events throughout the weekend (Nov. 22 to Nov. 24), as well as complimentary re-admission for the duration of the Show. Tickets to the Preview Party on Nov. 21 must be purchased separately. Tickets can be purchased online at www[dot]thetacharityantiquesshow[dot]org.
SOCIAL MEDIA:
Facebook: @ThetaCharityAntiquesShow
Instagram: @ThetaCharityAntiquesShow