Five Cocktail-Worthy Celebrations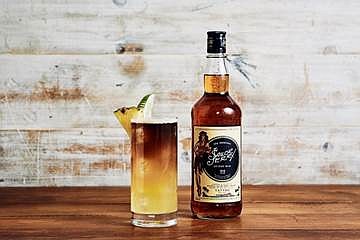 Soak up these last few days of summer and frolic into fall with these five cocktail-worthy celebrations. Thanks to William Grant & Sons' extensive portfolio of award-winning brands, we have the perfect cocktail to go with each.
August 16 – National Rum Day
Mix things up and celebrate National Rum Day with Sailor Jerry Spiced Rum, a Caribbean Rum blended with 100% natural spices and flavors, or the 125-year old rum brand Flor de Caña, Nicaragua's #1 exported brand. www.sailorjerry.com / www.flordecana.com
Sailor Jerry Tropical Storm - Created by Anthony Bohlinger, Sailor Jerry Ambassador
2 parts Sailor Jerry Spiced Rum
2 parts Pineapple Purée
3 parts Ginger Beer
Fresh Lime Juice, from half a lime, plus extra wedges for garnish
2 dashes Aromatic Bitters
Method: Fill a high-ball glass with ice and pour in all but the rum. Stir to combine. Pour the rum on top and garnish with a lime wedge and pineapple slice. Add a swizzle stick to the drink to stir the rum together when served.
A bottle of wine and a glass of beer on a table Description automatically generated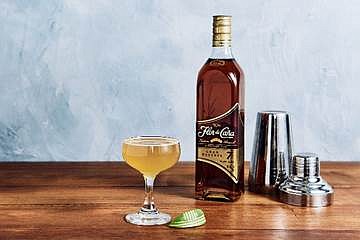 Pacific Coast - Created by Charlotte Voisey, Global Head of Brand Ambassador Advocacy at William Grant & Sons
1 ½ parts Flor de Caña 7
1 part fresh lime juice
½ part simple syrup
½ part banana liqueur
2 dashes Angostura bitters
1 pinch sea salt
Method: Combine ingredients with ice and shake well. Strain into a coupe glass. Garnish with a lime wheel on the side of the glass.
August 25 – National Whiskey Sour Day
Monkey Shoulder, a cheeky blended 100% malt Scotch whisky, encourages everyone to play with their whiskey this National Whiskey Sour Day – and everyday – with their version of the classic cocktail. www.monkeyshoulder.com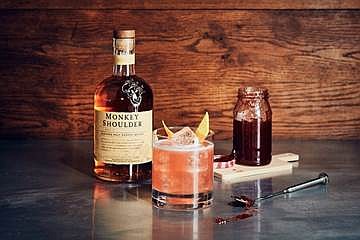 Monkey Jam Sour - Created by Vance Henderson Monkey Shoulder Ambassador
2 parts Monkey Shoulder
¾ parts Fresh Lemon Juice
¼ parts Simple Syrup
2 tsp Jam or Marmalade
1 Dash Orange Bitters
Garnish with Orange Twist
Method: Combine ingredients, shake and double-strain over fresh ice and garnish with an orange twist.
September – National Bourbon Month
The entire month of September is National Bourbon Month. Celebrate with William Grant & Sons' first from-the-ground-up American whiskey, Fistful of Bourbon. A blend of five straight American bourbons (yep, that would make a fistful!) aged at least two years. Fistful of Bourbon is currently found exclusively in Texas. www.fistfulofbourbon.com
Fistful Smash

2 parts Fistful of Bourbon

½ part grapefruit oleo

½ part fresh lemon juice

10 loose mint leaves

Method: Combine ingredients and shake well. Strain over crushed ice. Garnish with a mint sprig and grapefruit twist.

Sept. 23 – First Day of Fall

Fall in love with the Celertini this autumn. Taste the flavors of fall in this delightful cocktail featuring Reyka Icelandic Vodka, a unique spirit created with Icelandic glacier spring water, resulting in clean and crisp tasting vodka. www.reyka.com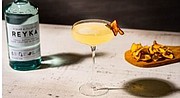 Celertini

2 parts Reyka Vodka

1 part lemon juice

½ part maple syrup

Apple baked bitters

Celery bitters

Method: Combine all the ingredients into shaker with ice. Shake, strain into martini glass and garnish with apple chip.

Sept. 29 – National Coffee Day

Celebrate National Coffee Day with a classic Irish Coffee featuring the world's second largest Irish whiskey, Tullamore D.E.W. Its unique blend of all three types of Irish whiskeys creates a taste that is three times smoother. www.tullamoredew.com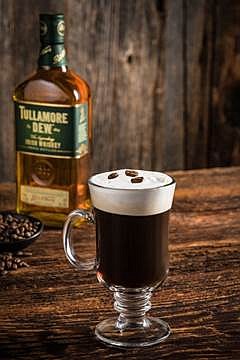 Irish Coffee - created by Tim Herlihy, National Tullamore D.E.W. Ambassador

1 ½ parts Tullamore D.E.W. Original

1 ½ parts strongly brewed coffee (Tim's Pick: any premium dark roast)

½ part sugar (Tim's Pick: Demerara Sugar)

Lightly whipped heavy cream

Cinnamon or nutmeg

Method: Preheat a clear-stemmed glass with very hot water. Add the sugar and brewed coffee and stir well. Once sugar has melted, stir in the Tullamore D.E.W. Irish Whiskey. Gently whip the heavy cream by shaking it in a protein shaker with a blender ball – you want a still somewhat loose, not stiff consistency. Pour the cream over the back of a hot teaspoon to top the drink (and prevent cream from penetrating the top of the drink). Finally, garnish with grated nutmeg or cinnamon for spicy finish.

The team at William Grant & Sons asks that you please measure responsibly.