Budget talks sticking point: How many people ICE can detain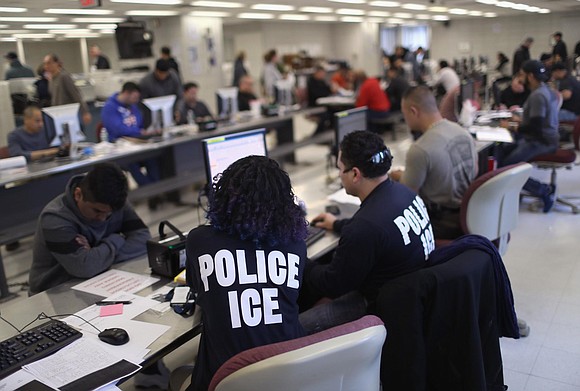 By Priscilla Alvarez, CNN
(CNN) -- Border security talks hit an impasse over the weekend, as Democrats pushed back against another facet of the Trump administration's agenda to crack down on immigration: aggressive detention efforts by the Immigration and Customs Enforcement.
The sticking point: Democrats argue that by allowing ICE to up the number of detention beds from 40,520 to 52,000, as the administration wants, the agency will have the capacity to pursue a larger swath of undocumented immigrants, including those without criminal records. They want to go down to 35,520 for the remainder of fiscal year 2019.
But Republicans view the number of detention beds as central to limiting the ability of detained undocumented immigrants to be released into the US as they await hearings.
President Donald Trump is expected to hold a meeting in the Oval Office on Monday afternoon to discuss wall funding as well as a response to Democrats who are demanding a limit on the detention of illegal immigrants. Republican lawmakers are not expected to attend the meeting. Earlier today, Trump aide Stephen Miller led a briefing call along with administration insiders denouncing the Democrats' demands, according to a source close to the White House.
What are detention beds?
ICE, the Department of Homeland Security's enforcement arm, is tasked with, among other things, detaining and deporting undocumented immigrants residing in the United States. To do so, the agency contracts with county jails and private companies, which operate the facilities where many of the beds are.
Beds are just that -- beds for undocumented immigrants in detention. To that end, the number of beds is representative of how many undocumented immigrants, whether they have criminal convictions or not, can be detained. Costs per bed include the expense of keeping each person in detention, including payments for guards, health care, building maintenance and administrative overhead, ICE says.
Not every detention bed is alike. The cost can vary significantly depending on who is being detained. According to ICE's fiscal year 2018 budget, the daily rate for an adult bed is $133.99. Family beds -- a bed in a family detention center that's suitable for children -- cost around $319 day on average.
In a call with reporters Monday, acting ICE Deputy Director Matt Albence cast any cap as a threat to security. "It'll be extremely damaging to the public safety of this country," Albence said. "If we are forced to live within a cap based on interior arrests, we'll immediately be forced to release criminal aliens that are currently sitting in our custody."
48,000 in custody
Detention facilities are key to ICE's operations: As of January 1, more than 48,000 individuals were in ICE custody, surpassing the 40,520 beds for which it's received funding. The influx of individuals in ICE custody is in line with Trump's agenda to prioritize enforcement in the interior of the country, not just at the border.
In fiscal year 2018, for example, ICE held an average of more than 42,000 people in custody. The previous record high since ICE began tracking the data in 2001 was just over 38,000 in 2017.