Trump's racist Elizabeth Warren taunts have entered a new phase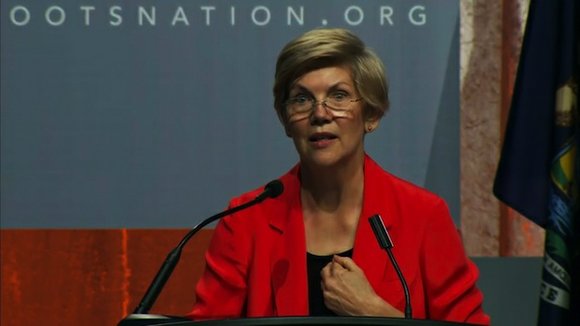 Analysis by Zachary B. Wolf, CNN
(CNN) -- President Donald Trump can't merely slur Elizabeth Warren with the nickname "Pocahontas" anymore. That's old hat.
To effectively torment and tease her, he now seems to feel compelled to throw in an allusion to shameful episodes from US history.
This weekend, it was a not-subtle allusion to the Trail of Tears -- the forced migration of American Indians from Mississippi to present-day Oklahoma -- to poke fun at Warren on the occasion of her official 2020 campaign kickoff.
Insensitive by design, Trump set the scene by calling Warren "Pocahontas" and then drove the point home with an all-caps, "See you on the campaign TRAIL, Liz" sneer.
Coincidence? Did he just accidentally capitalize those words? Hopefully not, since Trump should know this history. While the Obama administration sought to take Andrew Jackson off the $20 bill, Trump put a portrait of Jackson, whose Indian Removal Act led to the Trail of Tears in the 1830s, in the Oval Office.
And in case anyone didn't get the joke, his son Don Jr. shared it and added "Savage!!! I love my President."
The structure of this new Trail of Tears tweet was nearly identical to one from January in which he invoked Wounded Knee -- site of the massacre of Lakota Indians by the US military in 1890.
"If Elizabeth Warren, often referred to by me as Pocahontas, did this commercial from Bighorn or Wounded Knee instead of her kitchen, with her husband dressed in full Indian garb, it would have been a smash!," he tweeted then.
For her part, Warren suggested during an event in Iowa that Trump may "not be a free person in 2020." It's not exactly the "Lock Her Up!" chants Trump supporters used against Hillary Clinton in 2016, but it certainly gets at the point that a lot of Democrats think Trump's campaign colluded with the Russian government in 2016.
Trump's long campaign to bully Warren began years ago when he started calling her "Pocahontas," but it has intensified in recent weeks with these new tweets that dovetail with new scrutiny of when and how Warren claimed Native American background.
CNN political commentator Ana Navarro described these tweets as Trump's attempt to "trigger" Republicans.
"There is something about Elizabeth Warren that triggers Republicans, that triggers conservatives, that triggers the right wing." She said Ted Cruz has a similar effect on Democrats.
Warren won't be Trump's only target in 2020, however. And so this is where the nation finds itself; the President searching for increasingly inflammatory ways to bully a rival.
A day later he didn't slur Amy Klobuchar, the Minnesota Democrat who also announced a run over the weekend, but he did use her campaign announcement to question the underpinnings of climate change. Again.
"Well, it happened again. Amy Klobuchar announced that she is running for President, talking proudly of fighting global warming while standing in a virtual blizzard of snow, ice and freezing temperatures. Bad timing. By the end of her speech she looked like a Snowman(woman)!"