Terry Williams Is Representing Black Excellence in Houston Community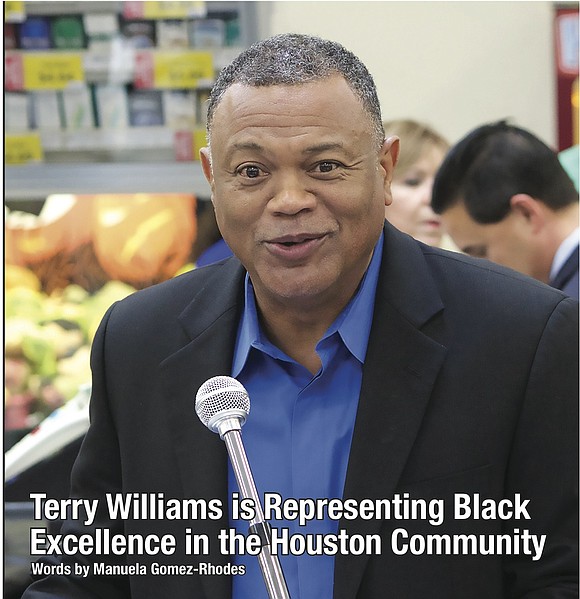 By Manuela Gomez-Rhodes, Special to Style
We can all agree that breaking barriers is something we strive for in our professional career as not only something you can be proud of for yourself but also serve as an inspiration to make those around you, such as your community, proud as well.
No man knows more about breaking barriers than Terry Williams. From being the first African American to be voted student body president at Eisenhower High School in 1980, to becoming the first African American to hold the title of Vice President of Operations at H-E-B. Williams is one of Houston's most successful professionals who has a long history of not only breaking barriers in his community but also inspiring and providing opportunities for the next generation of professionals to break barriers as well.
We had the amazing opportunity to interview Williams at the site of one of his latest accomplishments and probably the one he is most excited about; the groundbreaking ceremony for H-E-B's newest, state of the art, Third Ward location at MacGregor and 288. He shed some light about what his journey has been like, what he considers to be his legacy, and what he thinks the next generation of professionals should focus on while on their path to success.
Houston Style Magazine (HSM): First off, tell us about your new H-E-B location. Why has this Third Ward location captured your heart?
Terry Williams: This location is very personal for me because I was there since the very beginning of the conversation about its construction 25 years ago. Also, my late father, who is my best friend and fraternity brother, was the door greeter at our first location in this area for 10 years. He was the first and last door greeter there until his death. The one thing he kept saying to me was, 'Son the customers love the store, but we really need a bigger store; the customer count is just too big.' To see it come to fruition, just warms my heart because I feel like it's very personal for me and finally, we now have something my father would be very proud of.
HSM: What do you love the most about Houston and about being from here?
TW: Well, I just love Houston. I am actually the only H-E-B officer in Houston who was actually raised and went to school here. Everybody else comes from California, or Boston, or other places around the USA. I've never had to go anywhere else. I've been with H-E-B for 27 years and have had the pleasure to stay close to my family and my community throughout my entire career.
HSM: Out of all of your accomplishments, what are you most proud of?
TW: What I am most proud of is not with H-E-B, but it's with my kids. Bringing up great kids that are doing very, very well within the community. My son is one of 10 ministers at Lakewood Church. He owns a couple of gyms and is doing very well with his wife. My daughter just became a clinical psychologist and the first doctor in our family. I am very, very pleased with what my kids have been able to become.