The top nine reasons to visit Houston in 2019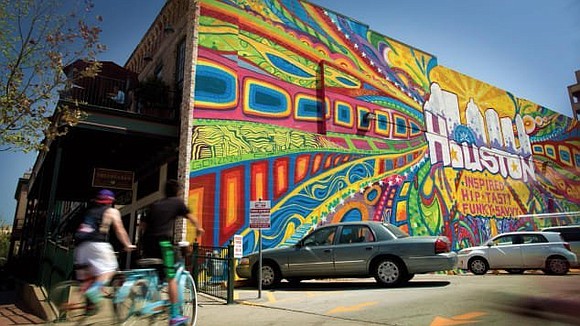 Shivani Vora, CNN
(CNN) -- From its integral role in the world's first moon landing 50 years ago this July to a new lineup of appealing options in the arts and culinary scenes, Houston has never been more ripe for exploration.
It wins in the aesthetics department, too: The much-photographed skyline is dotted with skyscrapers in architectural styles ranging from Art Deco to minimalist, and this city of more than 2.3 million residents -- the country's fourth largest -- has countless green spaces and parks for running, biking or simply unwinding under the big Texas sky.
While the greater Houston area is sprawling, many of the top travel attractions are concentrated in downtown. Tourists can get around this part of town by relying on the efficient Metro Rail system, but they'll need a car to venture farther afield.
Coupled with its remarkable turnaround from 2017's HurricaneHarvey, which caused an estimated $1.5 billion worth of damage to the city and forced thousands to be evacuated, Houston is hands down a must-visit destination this year.
Here's what to do when you go to Houston with nine of its biggest travel draws:
Space
Space Center Houston
Situated in the Greater Houston area, this 250,000-square-foot homage to all things space should be at the top of the list for every tourist. "Visit Space Center Houston to experience the heart of human space exploration," says William T. Harris, its president and CEO.
The Space Center Houston is also the official visitor's center for the NASA Johnson Space Center, located across the street and home to the Mission Control Room, from which Apollo 11 -- that incredible moon landing -- and other missions were monitored.
Space Center Houston admission is $29.95 and includes a tram tour to see Johnson Space Center. It's easy to pass a half day or more here. Space Center Houston has an impressive collection of space-related artifacts including multiple flown spacecrafts such as the Apollo 17 command module, used in the last manned mission to the moon in 1972. The center also has the world's largest collection of moon rocks on public display.
Johnson Space Center, a National Historic Landmark, is undergoing a restoration of the Mission Control Room. When the restored room reopens in July, visitors will be able to see the room exactly as it was during Apollo 11, complete with the illuminated black-and-white screens on the control room consoles displaying video from the world-famous mission. On display will be the actual consoles that flight controllers used to monitor the moon landing.
Space City Month
In July, Houston will celebrate the 50th anniversary of Apollo 11 with a series of events around town. Space Center Houston is hosting a variety of Apollo-themed events, including a Thought Leader Series where NASA experts will talk about the historic feats of the Apollo era and the future of human space exploration. The Space Center will also host a "Space On-Screen" film series showing space-related films.