The top nine reasons to visit Houston in 2019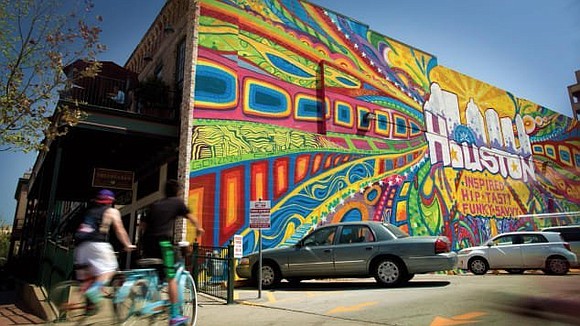 The second new gallery will display artwork by the Holocaust child survivor and painter Samuel Bak, and the third will focus on the writings of 18 young diarists, including Anne Frank, who died in genocides around the world. The museum will also host traveling exhibitions. General admission is $15, but free admission is extended to children and students.
Theater District
This 17-block district in downtown Houston saw heavy flooding from Hurricane Harvey but is now back to its former glory. There are more than a dozen theaters here, ranging from small, independent houses to grand stages. The Wortham Theater Center, home to the Houston Grand Opera and the Houston Ballet, is the largest and has two performing halls: the 2,400-seat Brown Theater and the 1,000-seat Cullen Theater.
No matter the season, the Wortham hosts performances almost daily. One of the most highly anticipated shows this year, held from April 20 to May 5, is Mozart's "Don Giovanni," which is a co-production with the prestigious Royal Opera House in London.
Eating and drinking
Food halls
Food halls are all the rage in Houston. Three are opening this year alone, while a fourth, Finn Hall, opened in December 2018. At 20,000-square-feet, it sits in downtown Houston and is home to 10 restaurants and two bars. All the vendors are locally based, and the choices are diverse. Dish Society, for example, serves farm-to-table American cuisine, such as chicken and biscuits, while Yong serves classic Korean dishes.
Bravery Hall, scheduled to open in February in downtown Houston, will house five chef-driven restaurants and feature a molecular cocktail bar and a spacious patio. Lyric Market, slated for a fall opening, is in Houston's Theater District and will have restaurants, specialty food purveyors, al fresco dining terraces, a 4,000-square-foot rooftop deck and an underground speakeasy.
Understory at Capitol Tower, a 35,000-square-foot project inside Capitol Tower's two-story atrium in downtown, is the largest of the food halls and opening this summer. It will house a full-service restaurant, seven chef-driven fast casual spots and a cocktail bar. The hall is connected to the city's seven-mile underground tunnel system and is expected to be an aesthetic showpiece that has white marble and copper finishes as well as walls with murals painted by local artists.
The Gas station cuisine
No, we're not joking here: Houston gets bragging rights for having top-brass gas station cuisine, and more and more notable eateries at gas stations continue to open. While the gas station joint culture has been around for several years, it's only now getting some national fame. The food is ridiculously tasty and incredibly inexpensive. Don't try to compare it to standard fast food because the quality is incomparable. On top of which, the portions are huge.
Some highlights include:
-- The family-run Sunrise Taquito at a Shell station in Washington Corridor. It serves fresh, made-to-order breakfasts. The chorizo and eggs taquitos, and the various breakfast plates with flour tortillas, refried beans and fried potatoes, are favorites.