The top nine reasons to visit Houston in 2019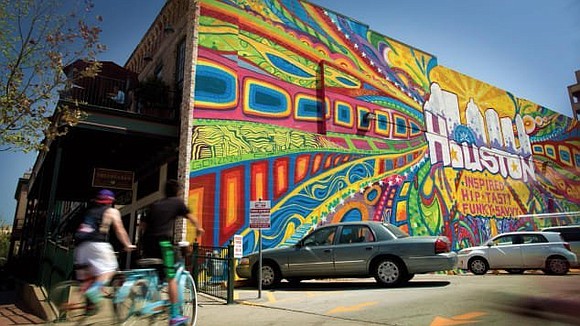 -- Ekko's Greek Deli at a Valero station in Uptown is a staple for Houston's Greek immigrants and is known for its gyros, hummus and baklava.
-- The Shawarma Stop at a Shell station in the Museum District turns out delicious chicken and beef shawarma stuffed inside a pita and a variety of tender kebabs including ground beef and beef chunks.
The 12 James Beard Award-nominated restaurants
The James Beard awards are the Oscars of the culinary world, and Houston snagged an eyebrow-raising dozen nominations last year.
Travelers should check out at least one of these nationally recognized restaurants when they're in town, and they're spoiled for choices.
There's Xochi, an airy spot in downtown that turns out Oaxacan inspired dishes and was nominated for Best New Restaurant (its chef, Hugo Ortega, won the James Beard for Best Chef in the Southwest in 2017).
Pappas Bros. Steakhouse, meanwhile, was nominated in the Outstanding Wine Program category.
For food with an ethnic flair, check out Crawfish & Noodles, serving Cajun and Vietnamese dishes; chef Trong Nguyen was nominated for Best Chef in the Southwest.
If you go:
Although the Greater Houston area has nearly 900 hotels, travelers will have the best access to the city's highlights by choosing accommodations in one of three main neighborhoods: the Museum District, ideal for culture seekers; downtown, home to top restaurants and nightlife; and the Galleria area, which is a prime shopping destination.
These are only nine of the many reasons to plan a trip to Houston now. Once there, travelers will undoubtedly discover many more to add to the list.