Tim Cook has a really big iPhone problem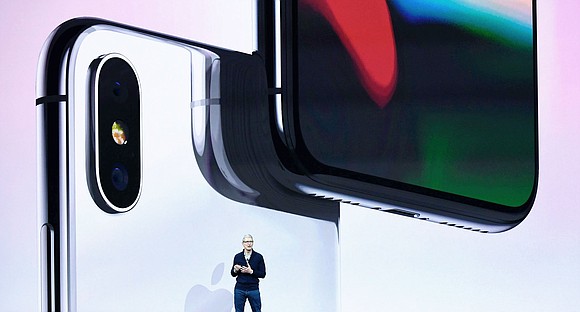 Analysis by David Goldman, CNN Business
(CNN) -- Apple has been fighting gravity for years, and it's starting to lose the battle.
The iPhone is by far Apple's most important product, accounting for nearly two-thirds of the company's sales last year. But iPhone sales have flatlined since 2015, frustrating the millions of investors in one of the market's most widely held stocks.
Apple CEO Tim Cook has a plan: Bump up the iPhone's price and sell customers services and other devices, like Apple Music and the Apple Watch, to go with them. Cook's strategy has paid off. Apple set sales and profit records a year ago, and it eclipsed a $1 trillion market valuation in August.
But gravity is starting to win. In November, the company rattled investors when it decided to stop breaking out iPhone sales — not exactly a sign of strength. On Wednesday, Apple (AAPL) warned that it would miss its sales target for the previous quarter, mainly because of weak iPhone demand in China.
Apple's stock has fallen 36% since October 3. By last week, Apple had fallen behind Amazon (AMZN), Microsoft (MSFT) and Alphabet (GOOGL) in market value. Apple has lost $500 billion in market value over the past three months.
It's not time to panic: Apple remains a healthy company and could survive on inertia alone for years. Despite its revised outlook, Apple still expects to report $84 billion in quarterly sales. That's a ton of money: That single quarter would be enough to rank No. 33 in last year's Fortune 500.
Still, it's lower than last year's holiday quarter, and investors demand growth. If Apple wants to grow again, it's time for a new plan.
Apple's innovator's dilemma
Cook's predecessor, the late Steve Jobs, was a product genius. He knew what consumers wanted before most knew they wanted it. During his second stint as Apple CEO, from 1997 to 2011, he oversaw the revitalization of Macintosh, the music-industry-altering iPod and the world-changing iPhone.
When Jobs died in 2011, skeptics believed the company's unprecedented run of success would quickly end.
Cook, Jobs' top lieutenant, was an operations guru, building Apple's network of partners into the world's most respected supply chain. He was an expert at maximizing the company's efficiency, but there was only so much blood he could squeeze from the stone before Apple would need another big product, critics argued.
The skeptics were wrong. Cook has done a masterful job extracting every last penny out of the iPhone money-printing machine that Steve Jobs created. A year ago, Apple reported a record $88.3 billion in quarterly sales, and it generated $20.1 billion in profit — the best quarterly earnings of any American company in history. Apple has $237 billion in cash, more than the annual economic output of many medium-sized European nations.
But after Jobs died, Apple failed to deliver a groundbreaking innovation that came close to matching the iPhone's success. The Apple Watch is the most successful new product Cook's team devised. It is selling relatively well, but it's such a small business that Apple didn't bother breaking out Watch sales (even in those heady days when Apple used to break out segment revenue). Data tracker IDC estimates Apple sold about 20 million watches last year.